Refining concepts and applying lessons learned culminate in a powerful and recognizable brand image for Mercy Health — Anderson Hospital.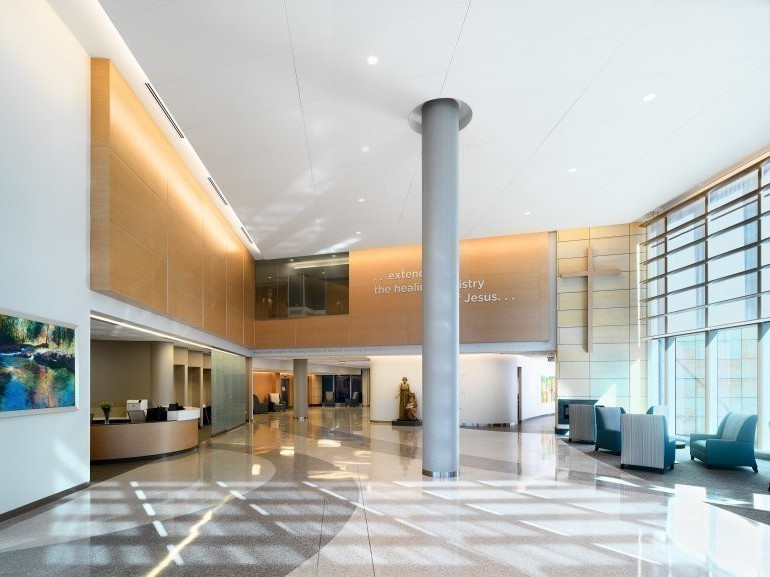 Building on the phenomenal success of its new West Hospital, Mercy Health continued its longtime collaboration with Champlin, capitalizing on opportunities to apply concepts and lessons learned to its other medical centers in the region.
Mercy Health — Anderson Hospital's modernization and expansion advances concepts explored in previous projects, culminating in a new $74 million, five-story patient tower addition at the front of the facility. The patient tower bows outward at its center, perfecting the efficient and functional layout Champlin originated 15 years ago for Mercy Health at its Fairfield Hospital. Simple, yet potent, the gradated and pixelated façade expression persuasively conveys the brand image cultivated architecturally in Champlin's recent new West Hospital and The Jewish Hospital expansion for Mercy Health. 
Modernization & expansion is centered on a "Healing Garden"
This 126,000 sf tower incorporates a new main entrance, drop-off canopy, and lobby, leading one on a path adjacent to a delightful "Healing Garden" and towards the new chapel and renovated café. In the addition, new elevators connect patients and visitors directly to the three new patient floors above a 21-bed ICU on the second floor.
Interior design also builds on themes established in previous projects: rift-cut white oak; clean, white walls; translucent rain-bead glazing; indirect and linear LED lighting; and simple modern furnishings. A Ronchamp-like screen wall, with deep-set colored glass apertures, appropriately bestows privacy and imparts a non-denominational aura to the chapel — which also is topped by a shallow star-lit vault.
In order to increase patient satisfaction, all existing patient rooms have been converted to private rooms. The additional patient rooms in the new tower allowed for the renovation and expansion of the existing ortho unit and future planned expansion of the obstetrics unit. The existing surgery suite was also renovated and expanded.
This project was designed using sophisticated BIM software, allowing all members of the design team to model, coordinate, evaluate, and refine the building's design during a compressed design schedule.