The Jewish Hospital's modernization and expansion results in stunning transformation that positively impacts its bottom line — and reflects a new brand image for Mercy Health.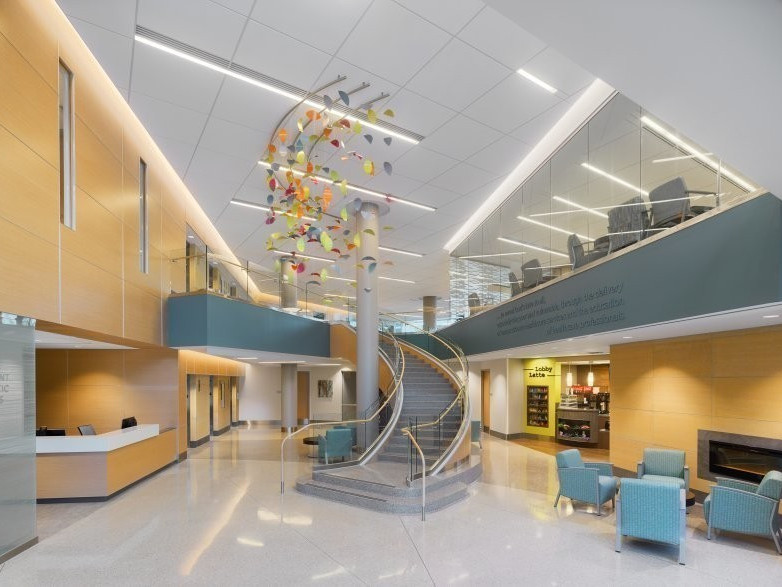 Mercy Health recognizes the tremendous competition in Greater Cincinnati's healthcare market — and realizes the distinct advantages that world-class facilities can play in fulfilling their mission.
Like most hospitals, The Jewish Hospital developed as an accretive agglomeration over many years, resulting in an innocuous facility that did not reflect the image of progressive care cultivated by its staff. A spectacular new six-story, 150,000 sf addition strategically positioned across the entire front of the facility radically transformed its image – and positively impacted its bottom line. The colorful curving glazed brick façade is a dynamic and welcome counterpoint to the hospital's rectilinear masses of red and tan brick. The pixelated color scheme gradates from terra-cotta to brilliant blue, remarkably integrating the new facades with existing, yet signaling a new era for this oldest Jewish hospital in the United States.
New or redesigned space involving most of the hospital's functions necessitated a well-planned construction process
The hospital had recently undergone a comprehensive master plan and building audit. The report recommended the addition of a patient bed tower, extensive additions and renovations to the surgical platform, as well as a complete renovation and or expansion of the Emergency Department. The $70m addition accommodates a 28-bed ICU, 28-bed bone marrow transplant unit, orthopedic unit, and emergency department. A new, modern front entrance to the facility, with a sweeping drop-off canopy, greatly simplifies wayfinding.
An important part of the program for the emergency department was the addition of an observation unit, serving a patient population that has a much higher than typical elderly percentage with complicated and chronic medical problems. A new recovery unit serves existing operating rooms as well as four new ORs. The project also included the expansion of the PACU as well as Central Sterile Supply, and expansion of the Energy Center. Currently under construction, a $14m addition housing Graduate Medical Education and a new café, dining room, and kitchen is designed to accommodate a future new patient tower above.
The Jewish Hospital modernization and expansion exemplifies the benefits gained when designers, contractors, consultants, and owners work together to achieve a common goal.