The Ohio State University's new Chiller Plant: efficient, sustainable, and dependable.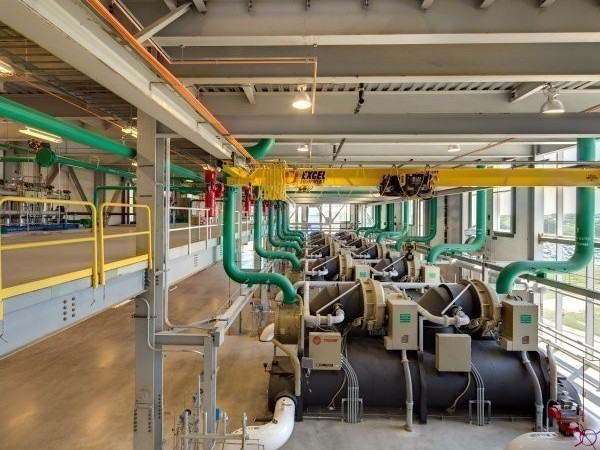 The South Campus Central Chiller Plant provides an efficient, sustainable, and dependable source of chilled water to Wexner Medical Center and all associated buildings in this campus zone. The chiller plant was constructed to meet the immediate needs of Ross, Doan, James and Cramblet Halls, as well as the new James Cancer Hospital and Solove Research Institute tower. Initial chiller capacity of 15,000 tons has been expanded to 30,000 tons, as planned, and includes emergency generators. Total project budget was $72m, with a construction budget of $50m.
Champlin coordinated the design efforts of a nationally-recognized team of experts including Ross Barney Architects of Chicago (Design Architect) and RMF Engineering of Baltimore (Utility Infrastructure Engineers). As Architect of Record, Champlin provided overall guidance of the design team and coordination of all users, customers, and stakeholders. Our responsibilities included developing a program of requirements and design schedule, budget adherence, and communication coordination. Champlin coordinated with 4 Design Assist contractors, and oversaw 12 traditional-bid prime contractors, with the Construction Manager as Agent only.
Dynamic "House for Energy" is an iconic marker at a major entry and pathway into campus
Carol Ross Barney conceived the building as a "House for Energy". The envelope's syncopated openings offer glimpses of the equipment within, and dichroic glass fins change color with the movement of the sun, casting color-changing shadows onto the polished precast concrete wall panels. The result is a dynamic façade that artfully metamorphoses with the time of day, season, and location of the observer. Functionally, design of the facility minimizes visual, noise, and vibration impacts. Completed with an accelerated schedule, the chiller plant has garnered significant recognition.
The project achieved LEED Silver certification.
Awards
AIA Chicago: Distinguished Building Award
World Architecture Festival: Finalist 
PCI Design Awards (Precast Concrete Institute): Best Custom Solution