The new Mercy Health medical office building provides specialty care, a cancer care center, pharmacy, and administrative space for east side Cincinnati residents.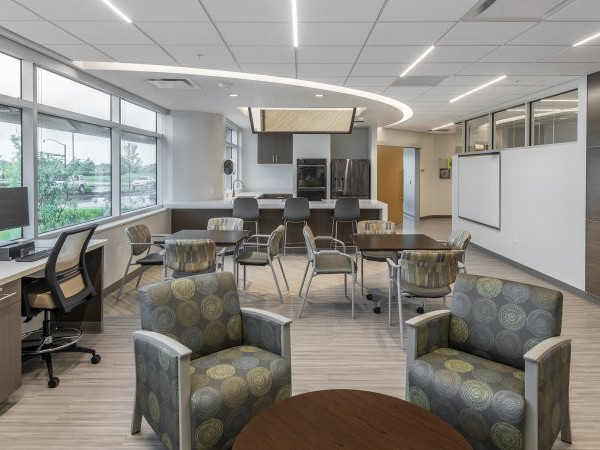 In order to provide access to top of the line healthcare that is close to home for many of their patients on the east side of Cincinnati, Mercy Health engaged Champlin Architecture to plan and design a new 78,000 SF medical office building. The facility offers comprehensive care, provided by a multitude of specialists, including a cancer care center, pharmacy, and administrative space.
Champlin coordinated with the entire design-build team on this building which exists in close proximity to both their hospital facilities in Anderson and Clermont County, Ohio.
The exterior of the building was designed using textured precast concrete and thin brick accents. The building features a two-story atrium and open staircase with a decorative light, designed for a more hospitality-like aesthetic. The first floor of the building consists of a 16,000 SF state-of-the-art cancer center which features a linear accelerator, simulator, clinical space, 26 infusion cubicles, radiation oncology exam rooms, phlebotomy work areas, and an on-site retail pharmacy meeting current USP guidelines. To create an environment designed specifically for healing, bright accent colors on circular soffits and walls throughout the building create a vibrant, yet relaxing atmosphere. Back lit ceiling and wall art feature images of nature to help connect patients to soothing and natural scenery even in the most remote and private areas of the building. The infusion space also consists of full-height custom wall graphics to surround patients with views of nature and space for a healing garden is allotted on the back portion of the site. While patients are receiving infusion therapy and treatment, they will have the opportunity to take in the calming views of nature which are critical to the healing process.
The building also includes 32,000 SF of space for integrated therapies including community support groups, counseling, prosthetic fitting, a demonstration kitchen, education space, and a physical therapy suite. Designed to look and feel more like a hospitality or residential setting, these spaces are integrated with warmer paint colors, casework and paneling crafted of rich walnut wood, and fresh, bright white accents. A fireplace and built-in shelving create a comfortable seating area where patients can interact with others. An island with a quartz countertop and waterfall edge, decorative sculptural ceramic tile backsplash, and black stainless-steel appliances provide a professional and high-end setting for the demonstration kitchen.
The Mercy Health Primary Physician Office on the second floor of the building includes 36 exam rooms, a laboratory, two point-of-care stations, and a community conference room. Exam rooms were designed in the center of the space and away from windows to maximize patient privacy. Administrative offices and work spaces are lined on the perimeter of the building to allow the staff, when not seeing patients, access to natural light and beautiful views with large, open windows. Wayfinding was also introduced at the corners of each intersection with blocks of Mercy Health branded colors to help patients and staff navigate through the space to the exam rooms.
Additional functions throughout the building include diagnostic imaging with MRI, CT, X-ray, and mobile PET; a women's center with a Dexa scan, two mammography units, two ultrasound spaces, and stereotactic space. A 92-seat conference space is also available for building tenants, as well as for use by the neighboring community. Space in the building is also programmed for a specialty eye clinic and ambulatory surgery center.