Champlin Architecture partnered with First Financial Bank to reinvent their workspace approach during the pandemic. The 11th floor of the First Financial Center was selected as the initial floor to be renovated as part of this new workplace design.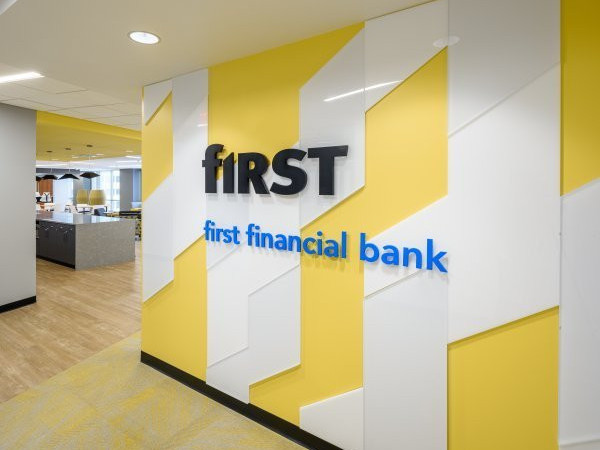 As part of the design process, we met with First Financial Bank to discuss how they wanted to interact with their workspace and what the frequency of use would be for each employee on this floor. It was determined via a collaborative process that every employee would get a workstation that they would not need to occupy full-time, and no assigned offices would be built out on the floor.
Banks of lockers were located adjacent to dedicated workstation neighborhoods to allow for additional personal storage and allow long-term flexibility, should First Financial Bank decide to allow a more hybrid work model in the future. Each neighborhood would be specifically branded by a color taken from the Bank's brand playbook. A quarter of the floor was dedicated to shared amenity spaces, such as the employee workcafe, conference rooms, huddle rooms, and a work lab.
A variety of private respite spaces were created to allow employees to take private phone calls or focus on heads-down work for a period of time. The iconic one and its angularity were design elements that were infused into the plan, interior elevations and environmental graphics used throughout the space. Other considerations for this project included security, technology, acoustical privacy, and audio-visual capabilities.