New Corporate Headquarters and Laboratory facilitate and encourage high-performing clinical work and testing.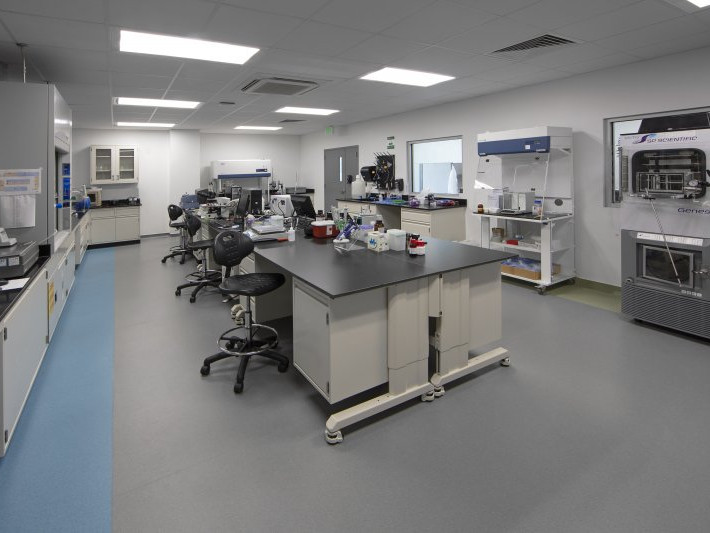 In early 2016, Catalent (formerly AB Biotechnologies) was seeking a new corporate headquarters and manufacturing center in Bloomington, Indiana. The contract development and manufacturing organization offers corresponding process development and analytical services as supplements and standalone projects.

The new 23,000 SF facility includes clean room lab space to formulate, fill, freeze-dry, and package pharmaceutical drugs for early-phase clinical research. With this new facility, clients and investors can now view the testing process via a touring corridor which provides access to the two QA/QC, R&D laboratories and eight workstations that will support eight full-time scientists in the testing of products. Collaborative work areas include private offices, huddle space, and conference rooms that are provided for additional lab and administrative management personnel. The second floor houses a teaching/training center and café which can support large seminars and educational sessions for their employees. The warehouse area accommodates the prefabricated clean room and refrigeration/freezer equipment, as well as additional storage racking and a shipping/receiving dock.

From early-stage development work to pre-clinical / tox studies material manufacture, their experienced scientists bring client projects from concept to clinic. Catalent's contract services support early-stage development and provide pre-clinical / tox manufacturing to clients around the world. With the recent addition of GLP manufacturing to their portfolio, Catalent can now shorten the time to the clinic by offering liquid and lyophilized vial filling at the newly designed facility.