Crossroads Christian Church, located in Newburgh, Indiana, renovated its existing main campus as well as commenced expansion to a multi-site worship. Champlin Architecture previously developed a strategic plan to accommodate projected growth to a family of 5,000 congregates over the next five years.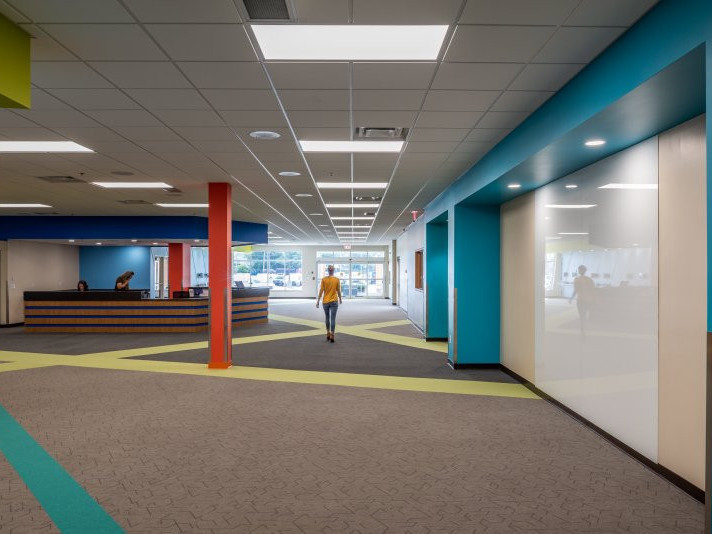 Phase 1 of the Main Campus Renovations project includes renovations of key areas including the following:

Family Entrance
The existing family entrance is under-defined from the exterior and is positioned along a narrow corridor which causes significant congestion on days of worship. The renovation will provide a new entrance canopy and drop-off area, enhanced electronic check-in for repeat families, and guest check-in station for first time families. Entrances to the infant and toddler rooms will also be reconfigured to provide visual observation from the new check-in station. New finishes will be provided throughout, including flooring, paint, ceilings, lighting, and signage.

Atrium Commons
The existing atrium commons serves as a multi-purpose room, and thus does not fully serve its primary purpose as a gathering space before and after worship services. Amenities such as guest reception, mission outreach, and communal seating will be added. The entire atrium commons will receive an enhanced finishes package as well as significant upgrades to its audio-visual systems. Moveable furniture is being provided which will permit nesting when the space is being used for larger gatherings, but encourage congregating and sharing for normal services.

Worship Center
The 1,700 seat worship center will receive new auditorium seating to replace the original pews. The proscenium will undergo a slight modification to relocate the secondary screens more towards the middle as rather than on the side walls. The main stage will be expanded to provide additional teaching space for the pastors, allowing them closer contact to the congregation. Entrances will be enhanced with large barn doors, which when opened will permit greater circulation at the close of service. Dedicated cry room and late-arrival worship space is being included. The sound booth is being relocated from the second floor to the middle of the seating. Aisles are being widened and new flooring, acoustical wall panels, and cloud ceilings are designed for this space.
The reception desk will be relocated closer to the main entrance, opening up circulation between the worship center and the atrium commons and providing additional security throughout the week.

Prayer/Decision Room
The current administrative offices behind the stage will be relocated to the second floor administrative suite. The space will be renovated to create a green room, a medium-sized prayer/decision room, and to relocate the dressing rooms and bathrooms which support Baptisms. The new prayer/decision room's proximity to the worship space is intended to provide quiet space for those wishing to have prayer or private meetings spontaneously during worship. This room will also be available throughout the week.

Administrative
Offices within the existing administrative suite will be renovated to create a more open, collaborative environment. Workstations, meeting rooms, and huddle spaces will be clustered to enhance communication among and between groups.

A new worship team space is being renovated in former under-utilized classrooms. Production rooms will be created to support practice and recording of instrumental and vocal music.