Sculptural, modern sanctuary for contemporary worship is a spirited departure for Northview Church.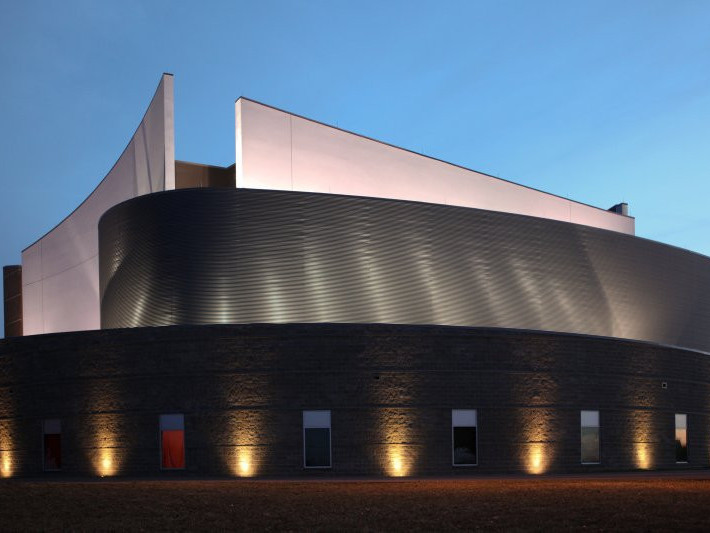 The church's change of denomination and ministry focus drove a desired departure from existing imagery towards a more modern expression for their new worship center. A sanctuary/auditorium addition along with renovation of the former sanctuary as a gathering/fellowship lobby offered the opportunity to artfully engineer a new worship experience. Comprised of 35,000 sf of new space and 15,000 sf of renovated space, Champlin Architecture's efforts include a new 2000 seat auditorium with two balconies, production and administrative offices, workshop, restrooms, and a Ministry Room for greeting new members.
The new sanctuary, which had to fit between the existing sanctuary (renovated fellowship hall) to the south, connector driveway to the north, and parking lots to the east and west, presented a significant logistical challenge. Champlin turned this to advantage by sculpting the addition with curved facades that artfully reconcile the large building program to its constrained site, and, in the process, achieve the desired new image at the public front of the property.
Designed to handle multiple Sunday services, the expansive sanctuary is focused on an immersive 30 x 80 foot rear-projection screen. A large stage flexibly accommodates multiple performers and types of performances, programmed from an optimal mid-audience control center, and stage-lit via an extensive catwalk system. A separate recording studio suite with audio and video control and editing rooms offers the ultimate in engineered technology for content creation.
An existing café opens onto the dynamic renovated fellowship hall. Clerestories brightly day light this space, an opportune counterpoint to the choreographed worship service experience in the auditorium.