Historic Armstrong Chapel recognizes contemporary worship trends, embraces dual approach onsite.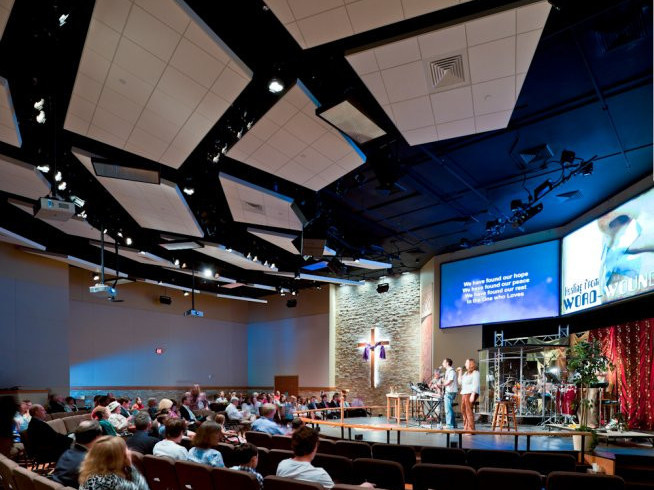 Faced with the potential emerging gulf between church members embracing traditional vs. contemporary worship, church leaders envisioned a new 250-seat Contemporary Worship Center that reinforces long-standing tradition by maintaining classic worship in the historic sanctuary, while specifically satisfying preferences for an "energizing service with modern style". Complementing the church's Federal Revival exterior, the 31,000 sf addition responds to the sophisticated acoustic, lighting, and video projection needs of contemporary worship — along with realizing another goal: a large fellowship gathering center. Therefore, each style of worship is accommodated in an appropriate setting, and opens off a common location where all can come together between worship services as a single congregation.
The Atrium provides a place for informal gathering and fellowship and is positioned between the two sanctuaries, allowing congregants to flow directly out of each worship space into this common forum. Tall east-facing windows beget a warm, sun-drenched space where people often meet over a cup of coffee or juice. Because of its openness, size, and orientation, the Atrium organizes pedestrian circulation, allowing clear views into major spaces. A new youth ministry offers teens a wide open worship/recreation space, affording them a unique identity and sense of place in which they can grow their faith.