2nd major venue for Crossroads repeats success of first, polishing design concept to perfection.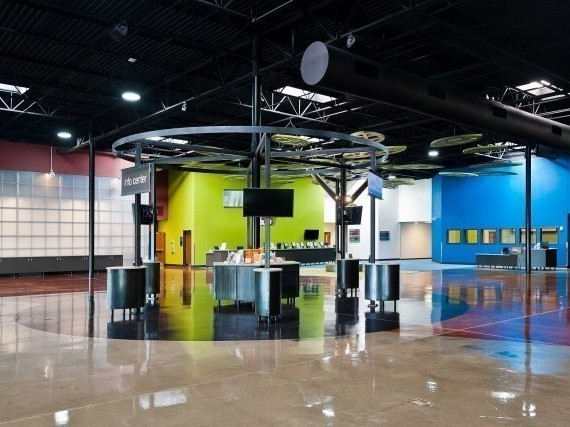 Extraordinary congregation growth necessitated a multi-venue strategy for Crossroads moving forward. The Church responded by seizing the opportunity to further expand its reach by creating a new worship center for its Northern Kentucky congregates on their side of the river. Similar to the Oakley location, this new facility is an adaptive reuse of a former big-box retail store. The 100,000 sf interior and exterior renovation houses a 1,600-seat sanctuary, large atrium, 250-seat chapel, and office/classroom/meeting spaces. The sanctuary features a 3,000 sf stage, theatrical lighting catwalk, and rigging capabilities. The coffee bar and informal seating zones propagate a welcoming, casual atmosphere in the atrium. Sunday School classes are offered for children ranging in age from nursery to 18 years in the Kids Club.
Inventive adaption of function on a budget — with considerable appeal
Structural design challenges encountered during the creation of the new auditorium included removal of three columns to optimize sightlines, and raising the roof within four bays to accomplish optimal interior height.
Bold application of interior finishes rely on the graphic qualities inherent in color and texture to enliven these large spaces. A "black-box" approach to finishes within the auditorium appropriately focuses attention towards the dramatically lit stage and multi-media presentation. The Kids Club is a masterful lesson in captivating design on a limited budget. Exterior design emphasizes the anonymous commercial/industrial aesthetic that belies the true function housed within — a paradox that many find apropos when reconciling modern life with spirituality.
Champlin was Architect of Record for this project, collaborating with Platte Architecture + Design.