Disabled American Veterans (DAV) is a non-profit organization that provides lifetime support for veterans of all generations and their families. Previously located in Cold Springs, Kentucky since 1966, the organization was seeking to relocate their national headquarters to meet the immediate needs of their employees and veterans in need of assistance.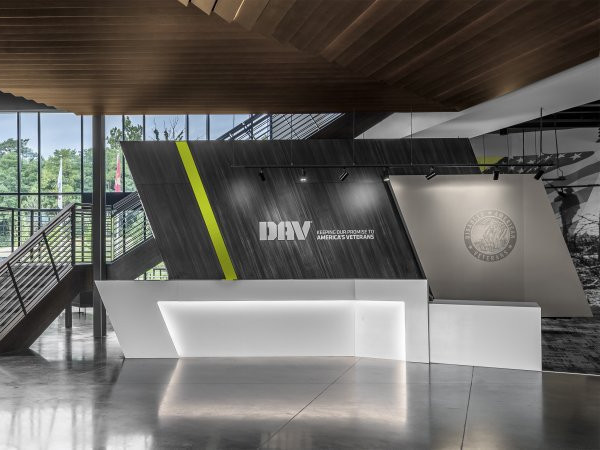 The newly designed headquarters is now located in Erlanger, Kentucky where it is situated on a highly-visible site and visible from a major interstate highway where the facility is seen by tens of thousands of passing cars each day.
The mission of DAV is to empower veterans to lead high-quality lives with respect and dignity and the organization's leadership sought a design for their new headquarters that would reflect their mission and be a symbolic extension of their identity. The exterior of the 67,000 square foot building was designed to command the site and maximize its presence for those who visit daily. High contrast materials with clean lines and deliberate forms convey a sense of order and cleanliness and the green fold at the entryway welcomes visitors and reinforces DAV's identity, one that is carried throughout the interior of the building.
The interior of the building was designed to welcome visitors and veterans, while maintaining a functional and inspiring workplace for employees. The building layout and interior lines established by the interior elements carry throughout the entire building, all the way through to the second-floor workspace. The lower level of the building includes a branded reception desk immediately upon entry which provides a sense of comfort and welcome to visitors. Retail space and a war museum war museum occupy the first floor and are visible and accessible from the main lobby area. The remainder of the first floor consists of break areas, office space, and conference rooms for large group gatherings.
The intentional layout of the first floor reveals a two-story curtain wall to an exterior courtyard and honor garden – a contemplative and reflective space for individuals to connect with each branch of the military in way that is purposeful and thoughtful.
The second story of the building is accessible through an open staircase that leads directly to additional break/café spaces, work areas, and branded conference rooms. DAV's brand and mission were weaved into the design efforts in order to be visible throughout the entire space and is purposefully displayed in each gathering space. An open workspace plan was developed for collaboration and communication among employees and private office spaces were included for DAV leadership.
The final design of the new headquarters accomplishes the goal of the organization and their vision to create a balance between design and functionality.