Champlin Architecture was engaged by Ohio University to design the renovation of an anchor building on their historic College Green.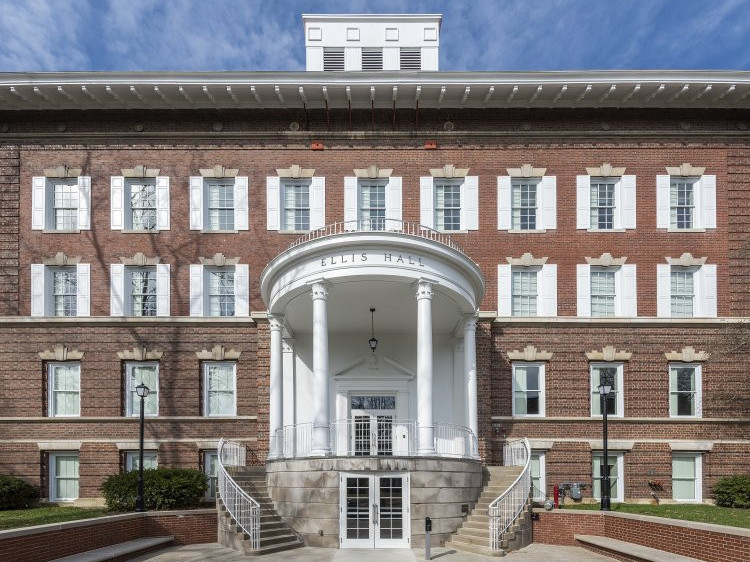 The original masonry bearing wall building was built in 1904 with additions to the north and south completed in 1906 and 1908. The building was fully renovated in 1962 at which time toilet room and stairs were moved, an elevator was added, and all wood structured floors were replaced with concrete. Limited renovations since then left an aging facility in need of upgrades to meet requirements of modern pedagogies.

The building houses three departments within the College of Arts and Science: English, Classics & World Religions, and Philosophy. These departments worked together to create a new functional model for the building — a central administrative hub within the building easily accessible to students, faculty and visitors alike. This Hub co-located administrative personnel and functions, such as mail, conference rooms, and high-volume copiers, to better create efficiencies for all departments.

Entry to the building from the east was divided between a ground floor entrance and a first-floor entrance access by climbing stairs to an elevated portico. These entrances were divided internally and created confusion about the main lobby for the building. This confusion was addressed by eliminating the structural floor slab that divided them and creating a lighter more transparent stepped bridge across the first floor that would allow light to penetrate to the ground floor. Interior design elements were employed to visually connect the two floors effectively creating a double height entrance lobby for the building.

Classroom and student-oriented spaces were concentrated on the lower two floors. Offices were located on the upper two floors. The existing structural system created limitations to be overcome related to available classroom sizes and office layouts. Several creative solutions were employed to break through these bearing walls to counteract the tunnel like corridors:

A large arched opening was created on the first floor between the corridor and a new student collaborative area on the west side of the building. This cross axis was reinforced using a wood ceiling element that connects the entry lobby to the student collaboration area across the corridor.

The longer sections of corridor were modulated with lowered ceiling barrel vaults that referenced the historic construction techniques using more modern materials.

Circulation space was captured for use as conference space and multi occupant offices on an upper floor where the wide circulation zone wasn't needed to support classrooms.

Sustainability and accessibility were key components of this project for Ohio University, and it exceeded the original goal of LEED Silver to achieve LEED Gold certification. Additionally, a method was identified to increase wheelchair accessibility by adding a lift that would provide a path from a partially raised entrance down to a floor that has elevator access. This solution was devised in such a way as it could be employed at a second entrance in the future should funding be identified.
This project achieved LEED Gold Certification.