At Wright State University, an arts center is imaginatively expanded — reinvigorating opportunities for collaborative creativity.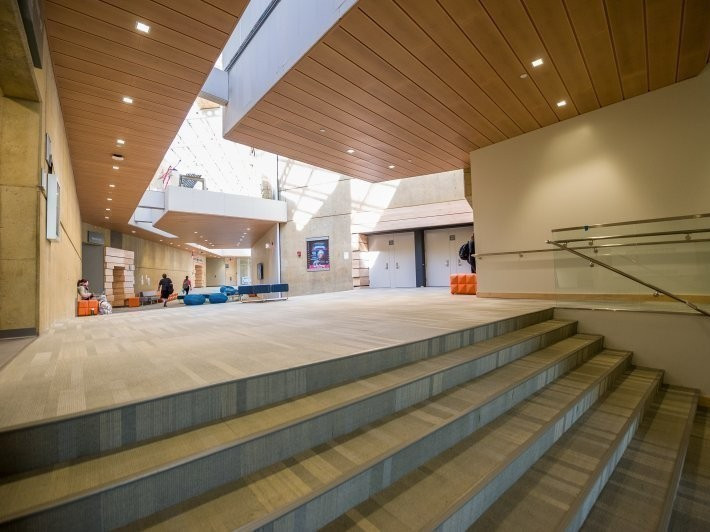 "Expressive ethereality" describes this Creative Arts Center (CAC) addition and renovation. The $28M project impacts all departments currently housed in this expansive building complex, including Theater, Dance, Motion Pictures, Music, and Art. As it had evolved over time, the complex is three separate structures conjoined at the ground and basement levels. A goal for this project was to create opportunities for collaboration between the programs and students, while redefining the CAC as an iconic structure on Wright State University's campus.
Parts of the complex received extensive renovations, while new construction focused on several functions requiring highly-specialized settings: large dance studios and new galleries for visual art. These new spaces were strategically amassed along the outward face of the complex, which — along with a new building entrance extending the existing skylit commons — created a new external image. One that is bright, fresh, and imparts a stature befitting of the creative, artistic endeavors cultivated within. Bright white GFRC wall panels with a distinctive striated relief, dichroic glass fins, and a beckoning glazed tube canopy assert an artistic public presence.
Lyrical simplicity belies complex constructional choreography
This project required extensive documentation and assessment of existing building conditions, both interior and exterior, with a concentrated focus on roofing, skylights and glazing, masonry, and deferred maintenance involving building infrastructure. It was essential that the design team comprehensively understand and evaluate these conditions in order to plan a renovation that could be implemented in multiple phases over a three year period. Defining work areas, providing for construction and acoustic isolation while the building is occupied, and maintaining egress routes were all critical attributes of the logistics plan. The result of this assessment and extensively detailed BIM model was a concise document that informed a budget summary, phased implementation plan, and performance analysis for the life cycle operation of the building.
As an enabling project, Champlin moved the film program from the CAC to the nearby Television Center — creating the Tom Hanks Center for Motion Pictures. Production studios, support spaces, and faculty offices were improved with maximum flexibility in mind, given their highly technical nature. The TV Center is designed to be as efficient as possible, with minimal new construction in order to adhere to an established budget.
Champlin Architecture is the Architect of Record, with H3 Hardy Collaboration Architecture as Design Architect.