Ohio University's Patton College of Education is expertly reinvented through a collaborative planning and design process.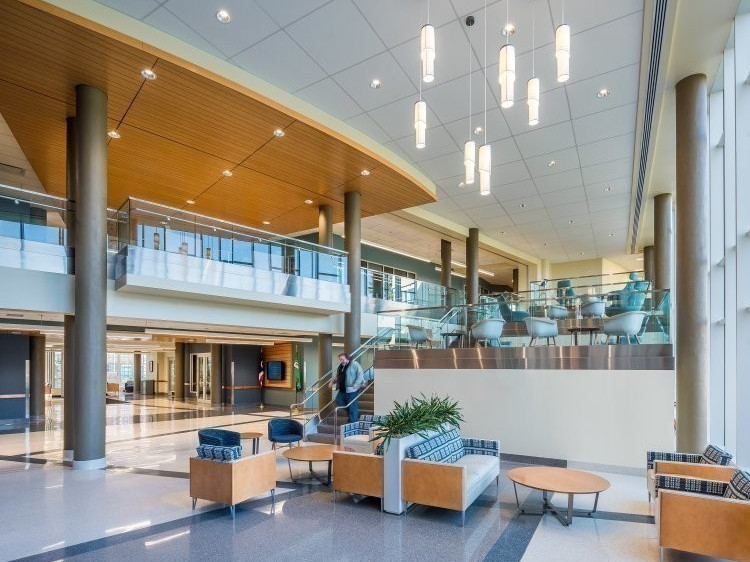 A visioning, programming, and planning study completed by Champlin Architecture for the Patton College of Education conceptualized the complete renovation of McCracken Hall (72,000 sf), along with expansion (46,000 sf), in order to accommodate current teaching methods and growth in student enrollment. This study reimagined the College with a dynamic space layout and architectural expression, creating an attractive, flexible environment for formal and casual learning. A notable quote from the Dean that came out of the visioning sessions was, "if we recognize the building after we're done, we'll be asking ourselves what we did wrong". To that end, a Faculty Colloquium, existing facility Walk About, determination of project Key Success Factors, Technology Discussions, Faculty and Student Workshops, and Online Surveys all yielded valuable information and helped create consensus necessary towards moving the ambitious project forward.
McCracken Hall now engages new North Green, with architecture that both complements and advances the prevailing campus aesthetic
The scale of the $22M project presented an exciting opportunity for the College to engage the University's previously undeveloped North Green, setting up the framework for its impending completion as the "Arts & Education Green". Champlin brought creative vision through the design of a contemporary atrium forum just beyond the historic building entry — a double-height space featuring a glazed wall overlooking the North Green, and an open staircase incorporating casual seating tiers. Further, Champlin conceived use of the attic for unique (and cost-effective) departmental office space, connecting it down through to the third floor via a dramatic new lightwell.
Demolition included a complete gut of the building. A major addition to the north complements the building and campus' Georgian architecture, establishing a needed edge to the North Green. The existing building envelope has been rehabilitated and upgraded with new windows, repointing of brick, thermal improvement of exterior walls through the use of stud furring and insulation, and thermal improvement of the roof along with a reused clay tile roof system.
Interspersed throughout each floor are a variety of classroom types and sizes, along with plenty of faculty office and support space. Collaboration between students and faculty is supported through a series of project rooms and varied gathering areas both large and small. A technology "black box" offers dedicated space to develop new pedagogy. Exterior enhancements include a new brick entry plaza, third floor terrace to be used as an outdoor classroom and lounge, and a green roof maintained by student volunteers in the University's sustainability program.

The project is achieved LEED Gold certification.
What the client says: 
"It is with great pleasure that I endorse the professionalism and overall excellent work provided by Champlin Architecture in the design and layout of the building that will house The Gladys W. and David H. Patton College of Education at Ohio University. The attention to detail demonstrated by your staff and contractors at Champlin has been a true testament of their commitment to reconstructing our building….The architects involved with the project understood our vision and combined common sense with creativity to exceed our expectations." 
Renee Middleton, Ph.D - Ohio University, Dean, The Patton College of Education