The University of Toledo renovates residence building to help current and incoming students feel at home.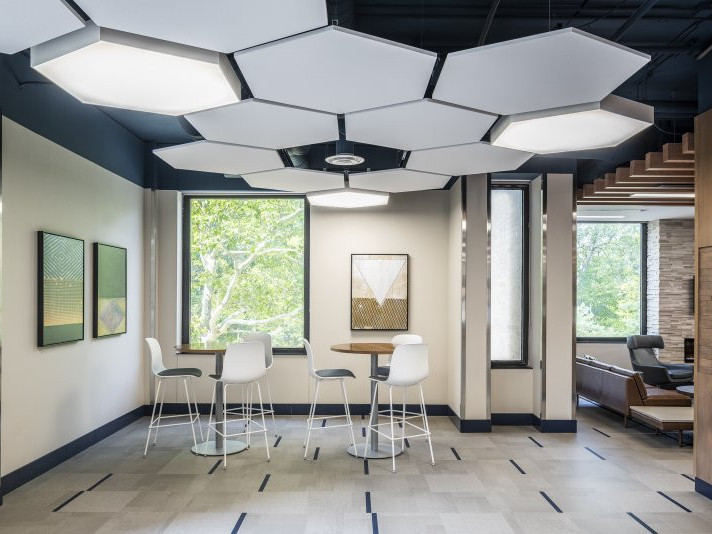 Centrally located on the northern Ohio campus of the University of Toledo, the Parks Tower residence building is one of the tallest and largest buildings on the main campus. Built in the late 1960's, the 16-story building was in need of major upgrades to modernize facilities for today's higher education residential standards including student-focused commons, finish upgrades, and the inclusion of lounges and kitchenettes for student use.

Rehabilitation on the exterior of the building included enhancing the current concrete structure, cleaning of limestone, and replacing sealants on the tower. The newly repositioned vestibule addition was designed for improved visibility and access to the building, as well as enhanced security protocols for student residents and visitors. An existing bridge was replaced that leads directly into the main entrance of the building, which is uniquely located on the second floor. The main floor of the residence tower was renovated to include student-focused spaces which include a lounge area, activity space, as well as meeting and study space. Taking a cue from the hospitality industry, our design team created a lobby space with dramatic ceiling elements, wood and stone tones and textures, a fireplace, flat-screen televisions, and free wi-fi which established a space that felt more like home.

The new design of the two-wing layout on the first floor of the building provided a natural separation of active space where students can gather together and study areas that provide a quieter atmosphere. The separate spaces are linked by the strong, linear core of the building and features distinct ceiling and flooring treatments, LED lighting, and interactive information panels.

The 360 resident rooms are located on floors 3-16 and are organized around the central core of the building, housing almost 700 students. Each resident floor was renovated and lobbies on each floor now include environmental graphics that were created by UT alumni, specialty lighting, and high-level finish materials. The lounge areas that are strategically placed throughout the 14 resident floors were redesigned with specific functions: Connect, Nourish, and Study. These areas were designed to encourage connections with residents of other floors as well as to expand and reinforce the community within Parks Tower.

Bath and shower room renovations included the accommodation of accessibility on floors 3-8 and the replacement of finishes, fixtures, and lighting, providing a less institutional and more residential aesthetic. Corridors and resident rooms also received finish upgrades including paint, carpet, ceilings, and lighting.

Future site work at Parks Tower includes the design and development of a small terrace where students can gather outside of the residence hall and stay connected.