Champlin Architecture collaborated with FKP & Ruetschle Architects on a campus renewal project for Dayton Children's Hospital.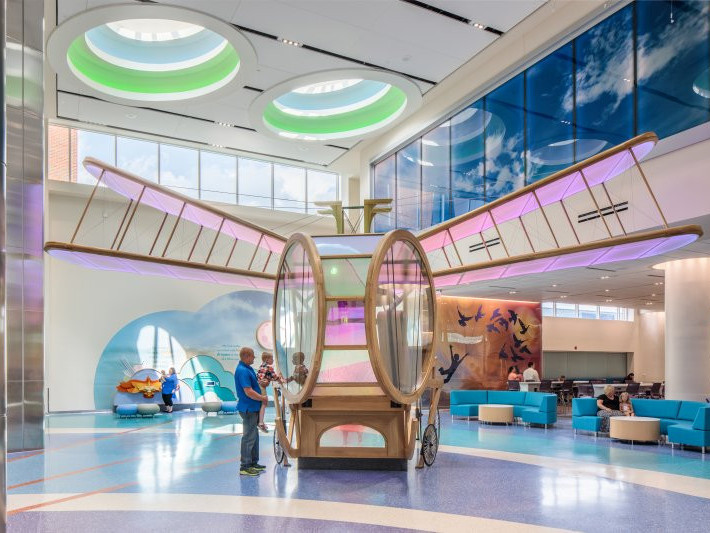 This multi-phased project included an eight-story, 250,000 SF new patient tower, which will feature a new Comprehensive Cancer and Blood Disorders Center for inpatient and outpatient treatment, a Level III Regional Newborn Intensive Care Unit, Pediatric Intensive Care Unit, and Intermediate Care Unit. A unique challenge for this project included constructing the new facility in an existing courtyard which is surrounded on all four sides by existing buildings. These new care spaces will demonstrate the unique patient care mission of the hospital and will offer places that facilitate the delivery of world-class pediatric care. Champlin Architecture also collaborated with Dayton Children's Hospital on a Cardiology Clinic Relocation, Imaging Suite Renovation, and Professional Staff Lounge.
Cardiology Clinic Relocation
This existing clinical space was renovated to include a new, 7,000 SF cardiology clinic. The existing cardiology clinic needed to be relocated to accommodate the new patient tower. An existing clinic space was renovated to accommodate the requirements of the cardiology clinic.
Imaging Suite Renovation
For the Imaging Suite Renovation, Champlin designed new MRI and Ultrasound Rooms, Preparation Rooms and Staff areas. This project had to be coordinated and constructed in several phases. The existing, adjacent MRI suite remained in operation the entire time during construction. This was made even more of a challenge by the fact that both the existing Magnet room and the new magnet room share the same control room and entry space.
Professional Staff Lounge
Champlin Architecture designed a 2,000 SF Professional Staff Lounge for the doctors in Dayton Children's. This space included a new lounge space, toilet and shower rooms, sleeping room, kitchen, and work space. A staff lounge provides a space for doctors to research, relax, and promotes collaboration between doctors of different specialties. This new staff lounge more than doubles their existing space and is design as a high end, comfortable/contemporary oasis for the professional staff. Champlin Architecture provided a full array of services for this project from schematic design through to the selection of furniture and artwork. The new professional staff lounge is seen as a recruiting tool for the hospital to attract new talent.