Big-box warehouse store is inventively transformed into non-traditional worship center for Crossroads Oakley through adaptive reuse.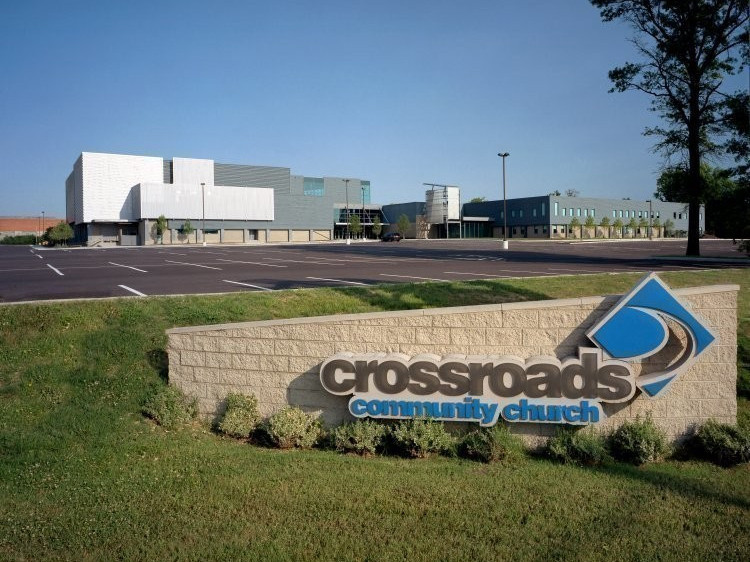 Since its founding in 1996, Crossroads had been holding services at a public school. When a former HQ Warehouse store became available in the neighborhood, the congregation, which had grown to 2,000, jumped at the opportunity offered by ample parking, a large flexible existing building, and site with room to grow.
Crossroads uses non-traditional methods — contemporary worship music, relevant sermons, cutting-edge multimedia presentations — to present a traditional gospel message, breaking all the paradigms of what people think church is.
Imaginative phased renovation & expansion spurs phenomenal congregation growth
Phase 1: During this $6.2M renovation, the roof support structure was modified to allow for a large 1,200-seat auditorium to be carved-out, the restrained design of which focuses all attention towards the stage. In contrast, an elliptical Atrium gathering space provides a friendly, welcoming environment to meet and greet before and after services and weekday activities. A gigantic tree anchors the vibrantly popular Kids Club.
Phase 2: A $20M new sanctuary expansion now seats 3,500 and features a state-of-the-art surround sound system that rivals many professional venues. Arena-like, with 200 individually channeled speakers, two wrap-around balconies, catwalks, and a thrust stage without a proscenium, the new sanctuary offers unrestrained flexibility in the delivery of multi-media dependent presentations and worship services. The existing auditorium was converted into a gymnasium, and a mezzanine was inserted within the warehouse space — permitting expansion of meeting space and Kids Club.
Crossroads credits the unconventional nature of its Oakley Worship Center as one of the primary drivers of its phenomenal growth — which evolved into a multi-venue strategy with additional worship sites by Champlin (see Crossroads Mason & Crossroads Florence).
Champlin received a Cincinnati Design Awards AIA Merit Award for architectural design of this project.
What the client says:
"We consider this project a resounding success in many ways. The new spaces have allowed us to conduct our ministries in ways we could not before - we have extremely functional spaces, adequate space for our existing needs, and have the potential to grow into the future. The project was a success because of the terrific relationships we formed, and we continue to foster, with Champlin." 
Sue Landgrebe - Crossroads Oakley, Director of First Impressions