When the renovation of The Christ Hospital's neonatal intensive care unit left a series of large concrete columns exposed, Champlin used this as an opportunity to introduce floor to ceiling graphics to help shape the space.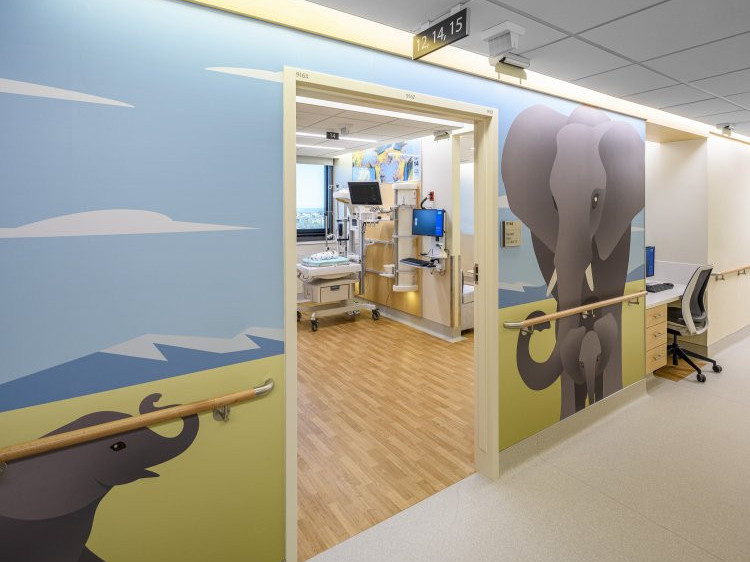 The graphics concept quickly evolved to feature scenes of baby animals and their families to give each NICU Bay a unique signature and provide enjoyable integrated wayfinding for staff and new parents.
We partnered with the Cincinnati Zoo & Botanical Garden to create a list of local animal artists. Each room was assigned a species, and nearly a dozen of the Zoo's residents were "commissioned" to create paintings for the collaborative project. Our design team then transformed the original artwork into the patterns for each bay's unique headwall. The team also illustrated life-sized vector graphics of each animal family to wrap the entry columns of the corresponding bays, allowing them to double as wayfinding elements. The custom illustrations were integrated into the healthcare environment, where a cheetah cub might peek out above the casework, or a sliding door might reveal a mama sloth hanging from the door rail.
The design of the space and graphics also includes two longer murals, and a gallery of the original animal artwork to provide memorable first and last impressions. Through the partnership with the local animal artists, the renovated space successfully elevated the experience for babies, parents, and staff through a unique approach to integrate the local community into the wayfinding and interior environment.