Champlin Architecture led the third of design and construction for the $42 million Bon Secours Mercy Health facility in Perrysburg, Ohio.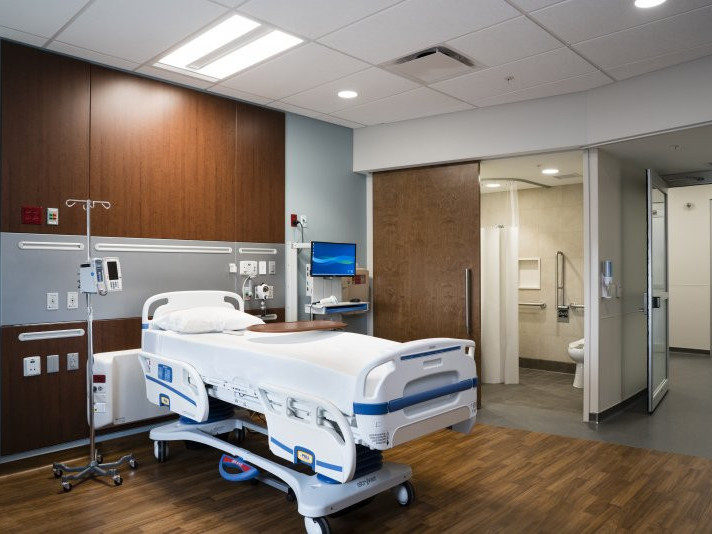 The previous phases of the hospital were designed by separate firms and consisted of a one-story, 18,000 SF Freestanding Emergency Department with limited services and a three-story, 50,000 SF Cancer Care Building.
While there was no workable masterplan in place for the third phase of the project, there was a general understanding of the program and the needs of the client. The first step was to create a masterplan that would create a micro-hospital from the existing facility. The updated program included a minimum of 40 inpatient rooms, a four OR surgery center, 20,000 SF of medical office space, a kitchen, a dining area, and all necessary support spaces. An additional piece of the masterplan was developing an adequate budget for the entire project. The budget created an opportunity for Construction Manager, Rudolph Libbe, to submit the project and acquire approval and funding for the intended work. Also included in the masterplanning effort were provisions for a future "Phase 4" of the project, which was projected to be an expansion of the Surgery Center, Medical Office Space, and Inpatient Beds.
In order to advance the project and stay on schedule, Champlin devised a strategy and implemented a plan to build an 18-bed inpatient unit in the 18,000 SF third-floor space of the existing cancer care building. This place included a goal of having patients in beds within a one- year period.
The goal of the entire project was to have the entire facility open within 24 months. The design team, along with Rudolph Libbe, took a fast-track approach to the new construction, issuing Footing and Foundations, then Core and Shell, and finally Fit-out drawings for permit and construction. All target dates were met and the project was completed on schedule.