Champlin Architecture designs new fire station for growing community, creating an aesthetically pleasing and welcoming building for residents.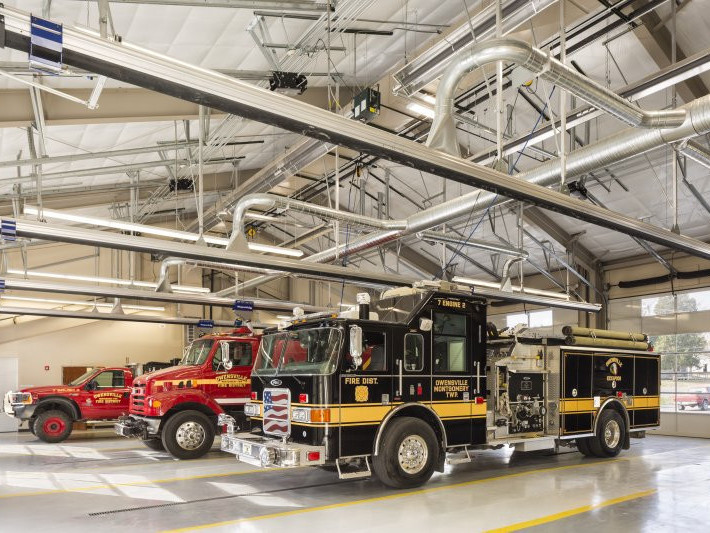 Owensville Montgomery Township Fire Protection District (OMTFPD) provides fire protection fire services not only for the local community, but also for the growing industry in the county, including Toyota Motor Manufacturing. The previous fire station lacked any and all amenities of modern fire stations, was experiencing increasing maintenance expense, and was insufficiently sized to simply accommodate newer apparatus and gear.
OMTFPD engaged Champlin Architecture to design a replacement facility that was both welcoming and functional, with a residential aesthetic which blends in with the community. Serving more than 4,000 residents in the area, the new building had to accommodate all functions and equipment used by public safety employees.
In order to meet the vision for the new building, the project team at Champlin worked directly with the Township to bring their vision to life. The new 12,000 SF fire station is comprised of four, extended-depth, drive-through apparatus bays which can accommodate vehicles as long as a 105' ladder-tower, or double-stacked for a maximum occupancy of 8 apparatus'. Large, all glass doors provide daylight and visibility into the bays, creating a sense of transparency and accessibility to the community. The facility also provides key functions for employees, such as: Decontamination Room, Laundry Rooms, SCBA Fill, Hose Dry Tower, Turnout, Gear Storage, Emergency Medical Services (EMS), Police Office, Training Rooms, Offices, Kitchen and Day Rooms. Vehicular exhaust rails also provide automated operation to ventilate the apparatus exhaust. At no additional cost to the county, an apparatus bay for EMS rescue ambulance and separate bunk rooms for both male and female staff were added. In addition to the functional aspects of the building, an administrative area of the fire station was included and incorporates a large conference room, private offices, board room, and a large kitchen. Separate day rooms and office areas provide support space for the 24-hour operation.
While the building was designed to accommodate the needs of emergency personnel in Owensville Montgomery Township, Champlin helped develop both a functional and appealing structure for residents in the area.