Clifton Cultural Arts Center's adaptive reuse of historic school becomes vibrant hub of eclectic community.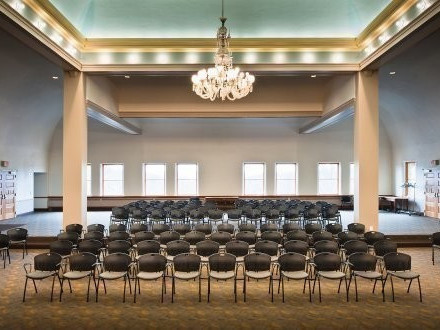 Renovation of the old Clifton school involved converting the historic 1906 Beaux Arts-style building into a cultural hub for the Uptown area. The Clifton Cultural Arts Center is a facility geared towards educating young and old alike, with prolific programming as varied as dance, music, and theater, to creative writing, visual arts, and frequent birthday parties.
Intelligent redesign of existing space for new uses, while timeless character is preserved
Champlin masterfully inserted a new glass elevator cab and shaft, acknowledging a preservation norm that new interventions should contrast with historic building fabric. The basement floor was raised to create a new accessible entrance lobby, and a canopy was added to the rear facade to allow older patrons to be dropped off in inclement weather. The third floor was reconfigured to be code compliant, such that the auditorium can now accommodate performances as well as large gatherings. Fire suppression upgrades, new electric service, and an ADA-compliant restroom were installed; and updated finishes were selected for the entire facility, inspired by historic Rookwood tile elements.
Awaiting funding, the former gymnasium presents an opportunity to create the Great Hall, a flexible space that can accommodate banquets, theatrical presentations, dances, and films. A former classroom on the second floor will be converted into a demonstration and catering kitchen to support the Hall. The kitchen will allow the facility to serve receptions as well as offer cooking classes. The renovated facility retains all its timeless character, while positioning this arts organization to altruistically serve its community well into the future.
What the client says: 
"I have had the privilege of working with Champlin since March 2009 and find them to be acutely attuned to an owner's needs while providing creative solutions to challenging issues that arise on renovation projects. Champlin developed our Master Plan for the phased $11.0 million renovation of Clifton School, a 53,000 square foot facility originally constructed in 1906. The initial renovation phase was successfully completed in October 2010, and Champlin has also completed construction documents for our next phase of renovation." 
Mark McKillip - Clifton Cultural Arts Center, Secretary/Founding Director/Owner's Representative