The visioning for the City of Mason's aquatic facilities began as a component of a parks master plan completed in 2019.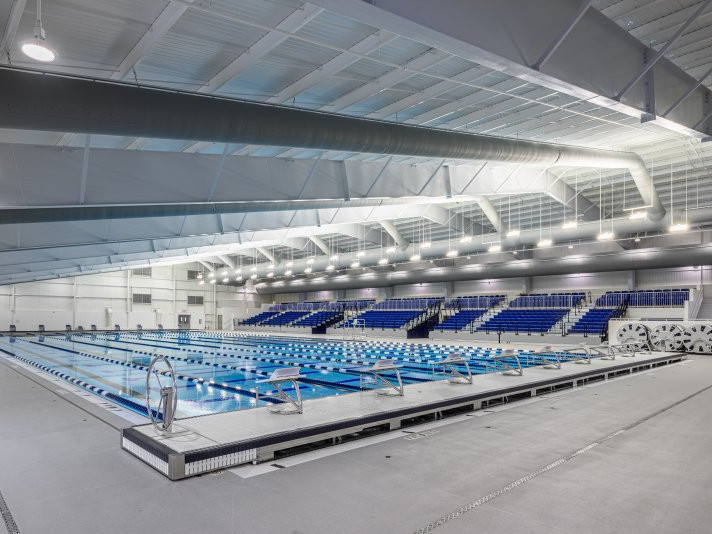 After engaging the community through several surveys and meetings which involved discussions regarding the needs and desires of the residents, the master plan effort focused around three main options: re-utilize/refresh the existing Lou Eves Pool facility, demolish the existing facility and reuse the site for a new facility, or add onto the existing community center. Ultimately, the City chose the second option of removal of the existing facility and use the site to construct a new expanded aquatic center facility.

Phase 1 of this complex incorporates a new, zero-entry leisure pool with expanded amenities, a lazy river, a double slide, and a splash pad area. This aquatic facility complex also has an expanded pool deck area with shaded structures for seating and recreation. The adjacent pool house facility houses the restroom/locker areas, expanded concessions, office support areas, and a rentable community room that can open up onto the entry plazas/breezeway to be used for events. The pool house was designed as two separate structures with a large wave canopy over the middle, thus allowing the western building to be designed to accommodate the leisure pool side of the complex. The eastern part of the building is focused more on the needs of community members who are utilizing the competition pool, which will be in use all year long.

This second phase of the project includes an enclosed, full-sized Olympic competition pool. This facility has a direct connection to the phase one pool house and an elevated spectator seating area over top facility support spaces. Support spaces include a fitness room, meeting spaces, and a coaches' room. Final construction for Phase 2 was completed in September 2021.