Corporate titan endeavors to offer daycare and fitness opportunities to its employees —altruistically opening the new Y at Duck Creek to benefit its neighborhood community.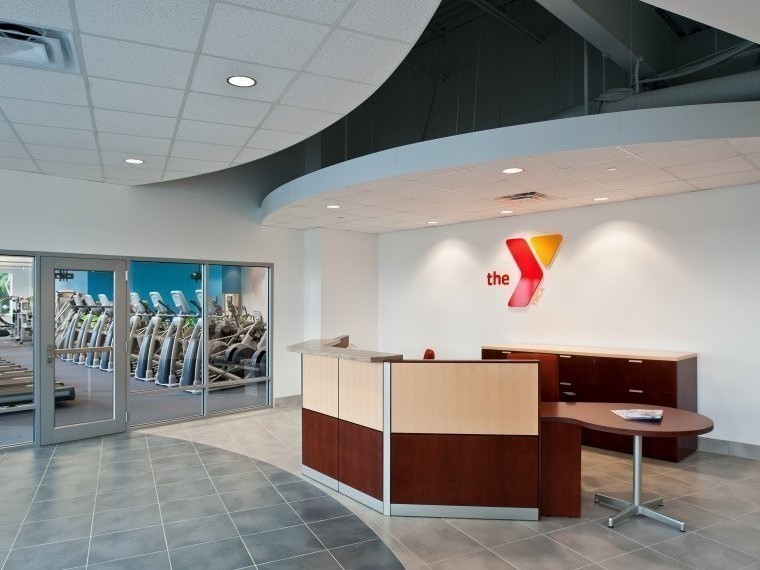 Developed by Fifth Third Bank on its Madisonville campus and operated by the YMCA (open to the public), this 19,000 sf facility is divided into two main components: a fitness center and a day care facility, with a shared lobby. The fitness side is comprised of a Wellness Center with free weights and cardio machines, dividable group exercise rooms/aerobic studios, and locker rooms. Parents may choose to leave their children in the Child Watch Area while they work out. This space shares a secure outdoor playground with the Daycare, in a sheltered corner at wood's edge. The Daycare facility serves children up to age five, and has six classrooms, (one infant room, two toddler rooms, and three preschool rooms).
Serene, yet expressive architecture beckons employees and neighbors
Hugging a calm corner of this sprawling operations center campus (with upwards of 5,000 employees), adjacent to wooded Duck Creek, the facility welcomes with a simple, modern aesthetic composed of durable materials and a neutral color palette. Fitness rooms are spacious and flexible, generously glazed to afford views and natural light. Daycare quarters are enlivened by vibrant accent wall colors, large windows, and feature durable maple furnishings.