UC Health's Women's Center introduces comprehensive multispecialty care to West Chester in an environment advocating female health.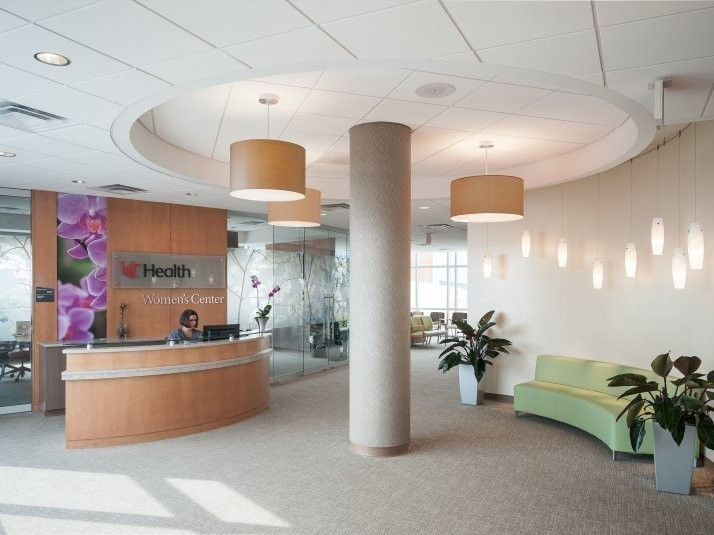 Located on a full floor at UC Health's Physicians Office South, on the campus of West Chester Hospital, this 26,000 sf fit-out provides a healthcare home for women — close to home. In this facility, women can receive the comprehensive, multispecialty medical care that they need all under one roof — a unique approach for the Cincinnati / Dayton region. Services offered at this facility are for women at all stages of life, and are considered to be the highest level of care available. The Women's Center includes space for multiple units, including primary care, breast surgery, endocrinology and diabetes, integrated medicine, gynecology and urology, skin / plastics, a time share, and research.
Functional planning involving both doctors and nurses results in atmosphere that is non-clinical, wellness-focused
Careful collaboration between Champlin and UC Physicians resulted in a consummately efficient layout. Working closely with both doctors and nursing administration staff enabled the creation of a logical facility that is easy to navigate. Attention to these details is what ultimately makes a facility like the UC Women's Center function satisfyingly well, long-term.
Considered the most feminine of flowers, the orchid inspired interior design. Vibrant photography and decorative glazing serve as both art and branding. Light cherry wood, a soft color palate, live plants, and shaded lighting all contribute to a comforting environment conducive to constructive interaction between patients and staff.
The center serves as a clinical and educational resource for women, the community, and even the providers who care for women. These resources will help women of all walks of life make the best decisions about their health.