Tempur-Pedic's new Global Headquarters showcases how purposeful design can enable transparency, collaboration, and connecting people in dynamic ways across an entire business.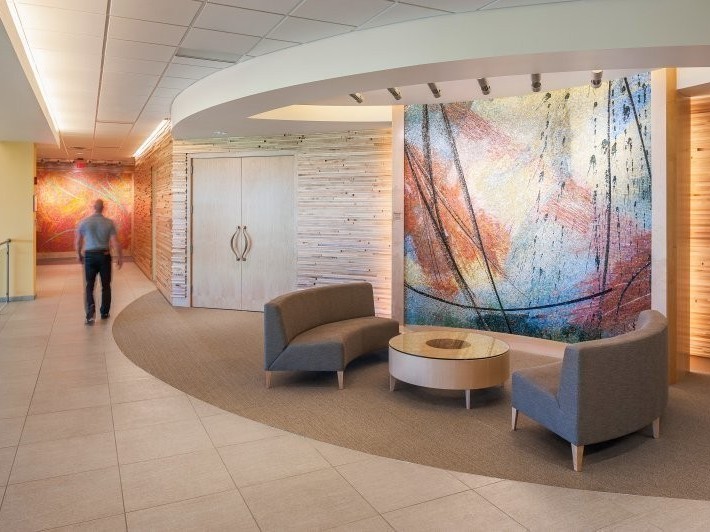 Annual growth averaging 20–30% in the global premium sleep products market necessitated a new corporate headquarters for Tempur-Pedic. Champlin conducted Interactive Programming and Corporate Cultural Assessment studies to help senior management forecast their actual space needs. The four-story, 128,000 sf building features a unique stepped atrium, visually and physically connecting employees and management. This feature speaks to their cultural emphasis on transparency and collaboration.
An interactive work environment that nurtures employee health and wellness
Several "test-fit" Space Plans were developed to investigate ways of maximizing real estate value, while enhancing employee satisfaction in a more compact workspace. Managers' offices and conference rooms are organized along the interior core of each floor, thus allowing employees in workstations greater access to natural light and views around the perimeter — since they spend the majority of their days in the office. Workstation heights were lowered, and the use of partial glass panels encourages interaction, and supports company principles of health and wellness. Employee input was solicited to evaluate new workstation configurations, and to gain "buy-in" before occupancy.
Programming studies revealed a significant need for more meeting spaces, but not necessarily within traditional closed door conference rooms. Interactive spaces throughout the open office are configured with movable collaboration furnishings and equipment, allowing Tempur-Pedic to make use of these spaces without investing in hard wall construction. Additional amenities include a full Fitness Center with showers, and an employee dining room which doubles as large meeting space for "all office" events and presentations.

This project achieved LEED certification.
What the client says:
"We are extremely pleased with the professionalism, technical expertise and partnership delivered by the team at Champlin Architecture. They have been a key guide for our executive team and steering committee throughout the design of our new headquarters. Our senior executive team and steering committee have enjoyed Champlin's partnership in our project, as they have built an important level of confidence with the team to facilitate key decisions along the way." 
Brad Patrick Tempur-Pedic International LLC, Executive Vice President/Chief Human Resources Officer