Major regional health network taps Champlin's deep expertise in medical office design, to create neighborhood-based care centers.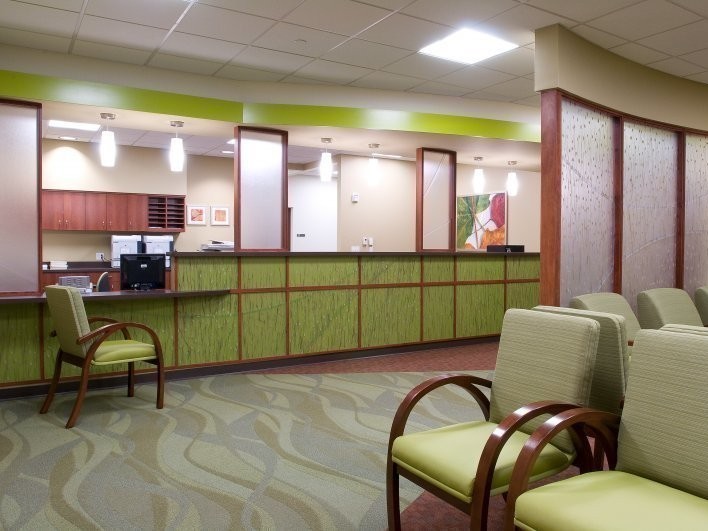 As a recognized leader in healthcare office design, Champlin Architecture's dedicated team of specialists have completed numerous medical and physician offices throughout Greater Cincinnati for The Christ Hospital Health Network over the years. Recent projects include four new Outpatient Centers — at Anderson, Fort Wright, Liberty Township, and Red Bank. Each project was different in scope. Anderson involved adaptive reuse of an existing retail plaza (72,000 sf), including exterior enhancements. Fort Wright involved tenant fit-out of a developer's rehabilitation of a vacant shopping center (70,000 sf). Liberty Township involved tenant build-out of a medical office building designed by Champlin for a developer, DOV Ltd. (44,000 sf). Red Bank involved tenant fit-out of a developer's spec office building (21,000 sf).
These facilities feature a mix of services: Family Practice, Internal Medicine, Urgent Care, Physical Therapy, Lab Services, Pain Management, Cardiology, Diabetes and Endocrinology, OB/GYN, Oncology, Orthopedics, Wound Care, and Diagnostic Imaging — which includes Mammography, Ultrasound, Radiology, and Nuclear Medicine.
Physician & diagnostic offices that impart a hospitality, rather than clinical, feel
The Christ Hospital cites Champlin's familiarity with current trends in healthcare service delivery and our experience with designing to an established budget on project after project as key factors justifying repeat business. Our experts understand that efficient and intuitive patient and staff flow through a facility critically supports medical practice success. These offices all feature warm, friendly, modern environments with a design focus on comfort, durability, and value. Curving lines, soothing colors, art, and varied lighting all aid in reducing the anxiety associated with a doctor visit.