Distinctive, yet soothing ICU relocation and expansion required systematic planning for St. E's Fort Thomas Hospital.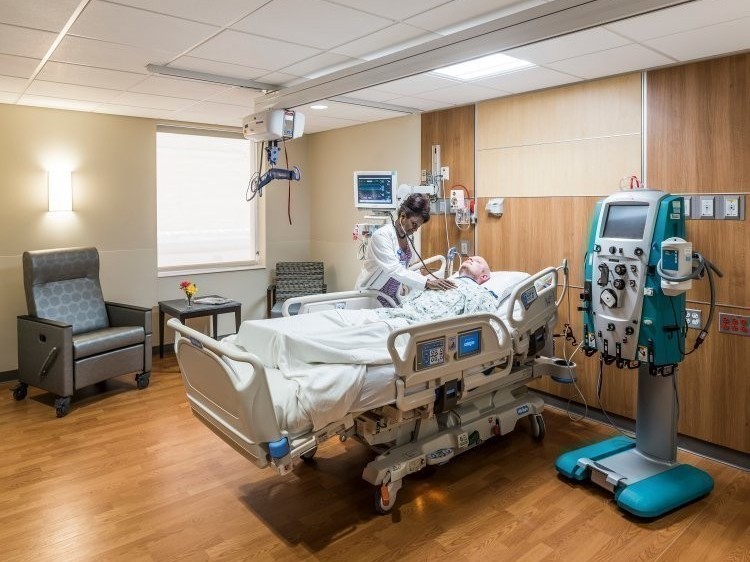 Relocation of St. Elizabeth's Fort Thomas Hospital ICU was generated by necessity: the existing ICU was woefully undersized, and support infrastructure was grossly inadequate. An available 10,000 sf wing on the second floor of the 1974 hospital strategically offered the needed area; however, extremely low floor-to-floor height presented significant challenges to accommodating HVAC ductwork, plumbing and sprinkler piping, electrical conduit, etc.
From the early stages of planning, the design team conducted face-to-face design meetings with staff, to assure that the outcome would offer the best possible patient experience, as well as staff satisfaction. Particular attention was paid to the design of various details within the patient room to optimize nursing staff's direct interaction with the patient. As room design developed, a full size mock-up patient room was constructed to validate conclusions and refine decisions.
Knowledgeably-designed patient rooms and nurse stations
The project goals outlined a need for 14 ICU patient rooms (double what was previously available) fully compliant with current FGI guidelines, and staff and clinical functions to support the needs of the unit. All existing construction within the project area was demolished, yielding a "clean slate" from which to start.
The 14 patient rooms include two contact isolation rooms (with entry vestibules). Each patient room contains: a toilet room; family area with sleeper chair; E-ICU camera and monitoring system; custom thru-wall nurse server for medications, supplies, gowns, etc.; and special five-function overhead light fixture, with a choice of different levels for ambient light, reading, charting, exam, and night lighting.
A warm, neutral color palette sustains a soothing environment in which to heal, bolstered by cherry wood flooring, bed headwall panels, and nurse station millwork. A distinctive detail is the acrylic resin panels accenting the nurse stations, which are specified with a diffuse rear surface to produce a translucent quality.
What the client says: 
"Just wanted to let the Champlin team know we had our first three cases (in the new Thoracic Operating Room) on Wednesday, and it went fantastic!! Dr. Calhoun even sent me an additional text that evening to say how appreciative he was. The room is definitely a game changer for us, and I just wanted to say thank you for using your gifts and talents to make this room awesome! Please let everyone else involved know how much we appreciate the work that has into our new room. :)" 
Kim Kitchen, RN — St. Elizabeth Healthcare, Registered Nurse