St. Elizabeth's CICU & TCU benefit from an Evidence-based Design approach.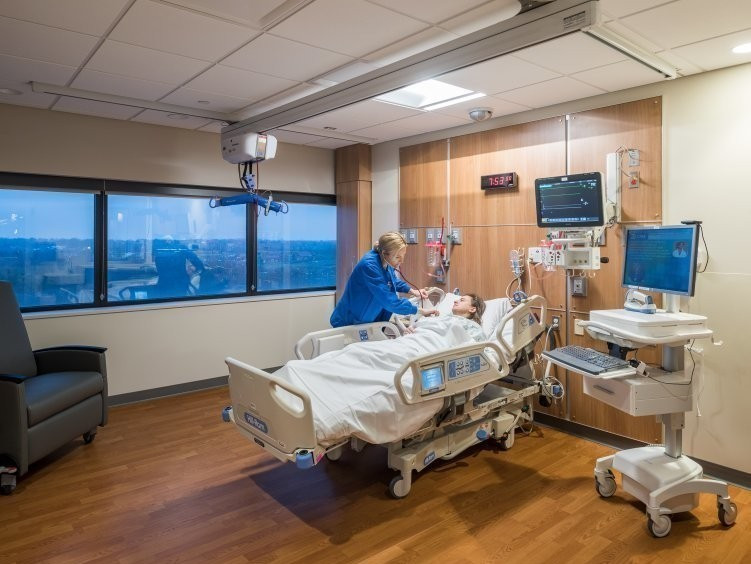 Evidence-Based Design (EBD) principles informed the buildout of shell space for this new fourth floor Telemetry Care Unit and fifth floor Cardiac Intensive Care Unit at St. Elizabeth's Edgewood Hospital — focusing on improving patient and staff well-being, patient healing, stress reduction and safety. Studies have examined how the physical environment can influence well-being, promote healing, relieve pain and stress, and reduce medical errors, infections and falls.
Buildout occurred in the hospital tower Champlin had previously designed. The 12 bed CICU and 36 bed TCU (distributed in three 12 bed wings) each included bariatric and isolation patient rooms, planned along the perimeter with the best views. Nourishment, medications, and supplies are centrally located, ensuring easy access by staff.  Soiled workroom and equipment rooms are remotely located to minimize disruption.  The CICU requires significant nursing staff, subdivided into smaller stations offering visibility toward all patient rooms. The TCU has a small central nurse station at the intersection of the wings, as recessed corridor alcoves between patient rooms provide additional work areas, and parking space for carts and computers help keep patient corridors clutter-free and maintain the required 8' clear maneuvering width.  A smaller, separate nurse station is located to allow the patient rooms in the south wing to flexibly be used as PICU rooms when needed.
Simplified, organized care environment advances patient healing
Other features address EBD research: custom millwork headwalls, nurse station desks with indirect LED tape lights, Advanced ICU Care (cameras, microphones, and speakers in each room provide access to remote ICU physicians 24 hours a day), and computers on wheels in each patient room for staff charting.
In the TCU, custom millwork recessed in the corridor walls outside each patient room store isolation supplies, and feature a tilt-out gown cabinet and upper wall cabinet with gloves and masks.  In the CICU, nurse servers allow restocking of medication and supplies without disturbing the patient. Each patient room has a window with blinds between the glass to control patient privacy while allowing staff to observe patients with less disruption.