Replacement medical center on highly visible urban site becomes tour de force for St. Elizabeth Healthcare.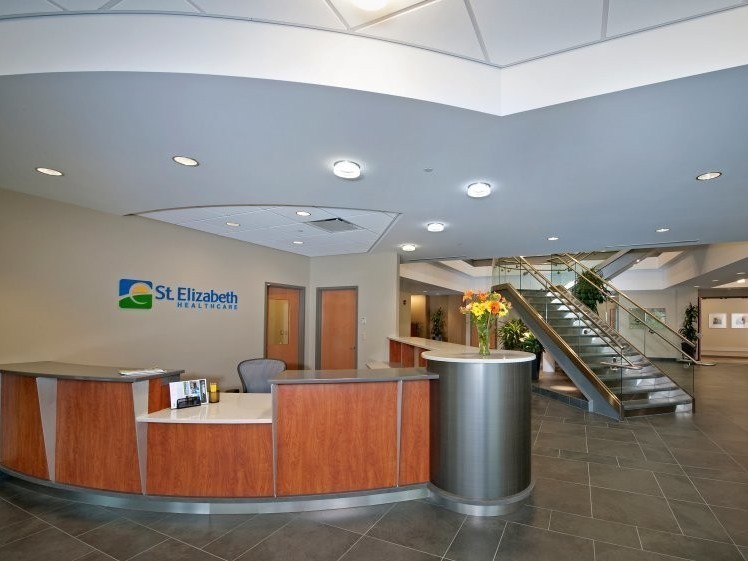 St. Elizabeth Healthcare has relocated an aging, urban hospital landlocked in a confined residential neighborhood to a new ambulatory care facility more accessible and visibly sited along an interstate highway in Covington, Kentucky. The 120,000 sf, three-story facility, which much more efficiently houses a complex variety of outpatient services, sports a giant electronic display monitor scaled to the freeway — emphasizing the contemporary retail nature of healthcare delivery. Iron spot brick and gray metal panels sublimely clad the exterior, referencing this site's industrial past, yet copious glazing and sleek glass entry canopies clearly impart a modernity designed to position St. Elizabeth at the forefront of healthcare in Northern Kentucky.
Impressive array of healthcare functions efficiently planned
First floor functions include a stand-alone emergency department, imaging department, pre-admission testing, lab, women's services, wound care, dialysis center, and cardio and physical therapy. In addition to these ambulatory services, two upper floors are dedicated to physician tenant office space.
A two-story main entry lobby with grand stair is connected through to the ED with a glazed concourse, providing easy access to the various services. Stairwells feature sunny yellow walls, cheerfully encouraging their use.
Champlin locally assisted Array Architects, providing programming assistance, peer review (of design & technical documentation), tenant design & documentation, and construction administration services.