Squire Sanders Law Offices deftly synthesize traditional design predilections with today's modern workplace expectations.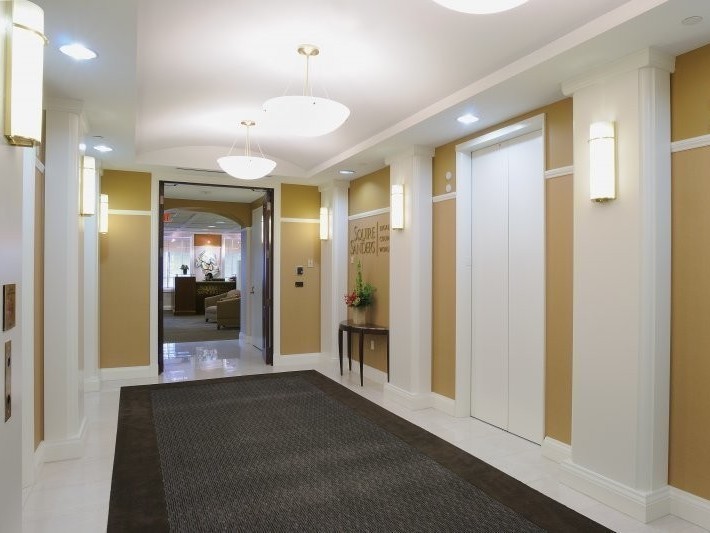 A new corporate environment appropriately reflects the culture of this high-powered law firm (now named Squire Patton Boggs) in downtown Cincinnati. The 34,000 sf renovation revitalized several floors of the Atrium II tower. Using an updated materials palette, Champlin refreshed architectural details existing in the space that Squire Sanders admired (designed by Champlin for a previous tenant) — in order to introduce a modern feel. And which saved on renovation costs, allowing for other amenities and perks. 
Daylight, openness, and transparency notably transform the typical legal environment
Most law offices have historically relied on abundant use of dark wood, closed offices, and traditional detailing to convey gravitas of purpose. Champlin shows here that creative re-thinking of norms can produce refreshing and welcome change — with a light, yet warm color palette, judicious use of both transparent and translucent glazing, bronze detailing, and strategic use of wood. Squire Sander's space includes offices for 34 attorneys, paralegal workstations, administrative support, five conference rooms, and a legal library. The conference room and reception area are well-equipped with the latest technology. A dramatic two-story light fixture fills the connecting stairway from the 29th to 30th floor, and the client's collection of contemporary art was carefully placed.

Champlin received a Cincinnati Magazine Interior Design Award for this project.