Sinclair's reimagined Library hub once again becomes the favored place to meet, study, and collaborate on campus, tripling its utilization rate.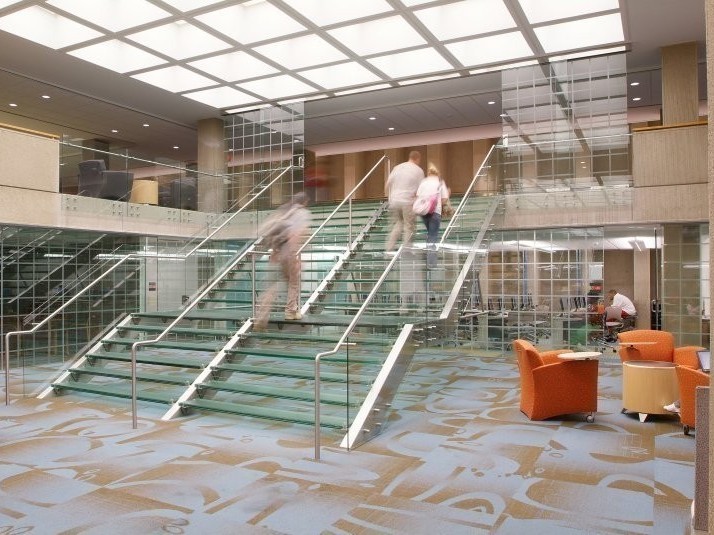 This 100,000 sf renovation project repositions the Learning Resources Center (originally envisioned as much more than just a library) as the heart of the academic campus. The Center provides diverse resources to the entire cross section of Sinclair's student, professor, and community populations through integration of technology in formal and informal learning settings.
Champlin's responsibilities included programming and architectural design assistance, interior design, furnishings, and structural engineering. Champlin assessed the current facility — including overall functionality, HVAC systems, and access and visibility for students, staff and visitors — as well as potential for technology integration.
Strengthens positive aspects of existing modern character, while asserting a fresh, new design aesthetic appealing to today's students
Sinclair's downtown Dayton campus was originally designed by pre-eminent modernist Edward Durrell Stone. His concept for the LRC positioned a "free-space" open floor plan connecting all academic buildings below grade, underneath a gridded reinforced concrete waffle slab roof plaza (defining an outdoor quadrangle at the center of campus above, at-grade). The introduction of natural materials, as well as sizeable splashes of color and texture, define various program zones within the expansive free-space forum. A "garden café" Starbucks is centrally located, with refurbished coffered skylights bathing a comfortable gathering area with soft daylight, and playful grass tile accents which subtly reference nature. Café tables and overstuffed chairs sprinkle the space along with large planters to help soften the repetitive orthogonal framework. A commanding central Help Desk bows outward in an efficient, welcoming fashion - attractively detailed to minimize clutter. Wide new "floating" glass stairways at redesigned key entry points greatly improve access, and contribute to the light-filled, airy ambience. A complete transformation from the previous austere, subterranean concourse character.
Champlin collaborated with Alan Scherr Associates, and received a Cincinnati Magazine Interior Design Award for this project.
What the client says: 
"Champlin did a great job of walking us through the process of turning our goals into reality. They stayed focused on the design objectives and put together a proposal that simulated, encouraged and challenged us to live up to our hopes and ambitions. When we as the client might have compromised the design in order to reach our comfort zone, the designers kept us from falling into the trap of mediocrity. They offered alternative designs, analyzed feedback, and reworked their proposal to meet our ever evolving knowledge and understanding of the project." 
Doug Kaylor - Sinclair Community College, Library Director