SEM Haven expands facility to create more room for Alzheimer residents and assisted living patients in Milford, Ohio.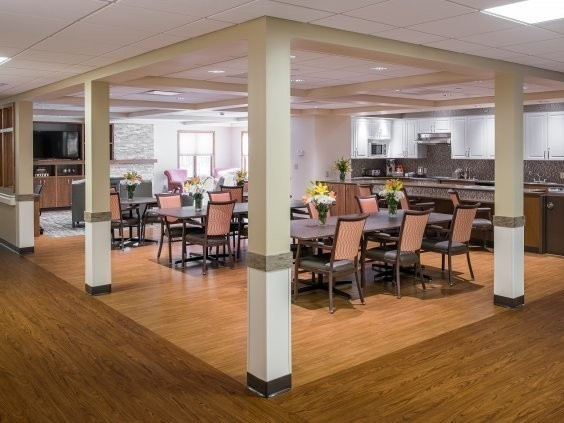 The SEM Haven Expansion project began design in July of 2015 and is an expansion of an existing not-for-profit Skilled Nursing and Assisted living facility in Milford, Ohio. The project consists of three construction phases and a total construction cost of $4M with an additional $400,000 in FF&E. The first phase of construction added a new 7,250 SF addition to an existing 3,000 SF wing to create a new household for 19 relocated Alzheimer residents.
Natural light creates a comforting space for residents
Phase 2 included the renovation of a 3,000 SF wing to relocate 10 Rehab patients into 14 new private rooms, and phase 3 renovated another 4,000 SF wing with a small 500 SF addition in order to add 9 new Assisted Living private rooms. Key features of the project are all new or renovated private rooms with showers, sliding bathroom doors, and large new sun rooms at the end of the wings for resident gathering. and to bring natural daylight into the corridors. Natural daylight floods the new and renovated corridors and common spaces, encouraging residents to socialize with others and spend time in a common area. to encourage residents to get out of their rooms and socialize with others. Beautifully landscaped, outdoor areas have been designed for each household to provide safe, secure, and inviting outdoor space for the residents and visiting family members to enjoy. Construction was completed on this project in 2018 .