Bold architecture embodying civic virtue and packaging needed healthcare services anchors disadvantaged urban neighborhood.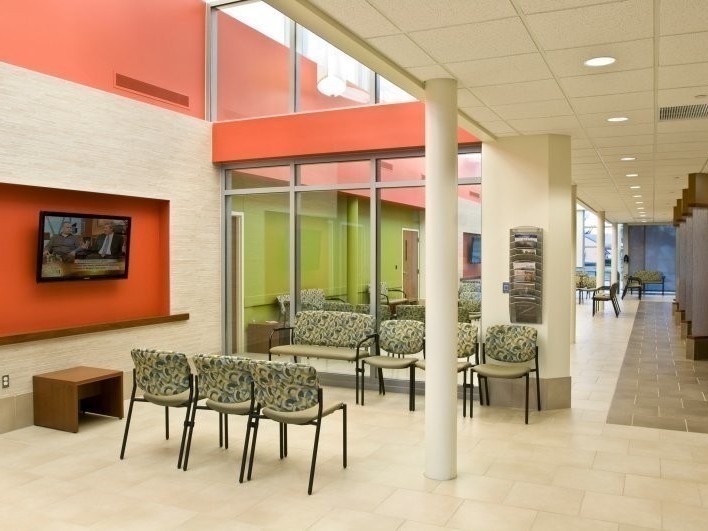 Primary Health Solutions (PHS), as a community-based, non-profit, safety net healthcare provider, wanted to make a positive impact in the urban community they serve. Their large brownfield property (the site of a demolished school that was relocated across the street) allowed for the creation of a circular brick public plaza and pathways through the property, connecting mass transit and the elementary school with the surrounding residential neighborhood.
PHS' new 22,000 sf medical office building houses existing dental, pharmacy, family practice, pediatric, and women's health services relocated from an adjacent property. Added new services include a laboratory, x-ray, and WIC (Women, Infant and Children) clinic — bringing a "one-stop" concept to PHS's Middletown clients. A dramatic lobby concourse bisects the building, brightly lit with clerestory windows and animated with a linear custom graphic featuring silhouettes of significant buildings in Middletown superimposed over images of people representing the broad spectrum of age ranges and ethnicities served by this care organization.
The waiting area is configured to allow for subdivision during early morning hours to accommodate the schedule for the dental suite, which includes eight operatories. A total of 26 exam rooms are organized along corridors with decentralized medical assistant stations. Labs are accessed from both ends to facilitate sharing of space. Other common core rooms such as medication, and clean and soiled storage are also centrally located.
Sustainable features renew civic health
Achieving LEED Silver certification, the facility's sustainable design features include geothermal heating and cooling, sunscreens shading glazing, and locally sourced and environmentally friendly interior and exterior finish materials. Considerate building placement on the site leverages this development's progressive image as an exciting new "gateway" to Middletown's downtown from the south, as well as maximizes the open space that remained on the property. Amenities such as the plaza with seating and a measured path with fitness-related signage are elements of the site design which engage the surrounding community.