New Life & Physical Sciences Center completes the original 1970's modernist quadrangle at The Ohio State University's Lima campus.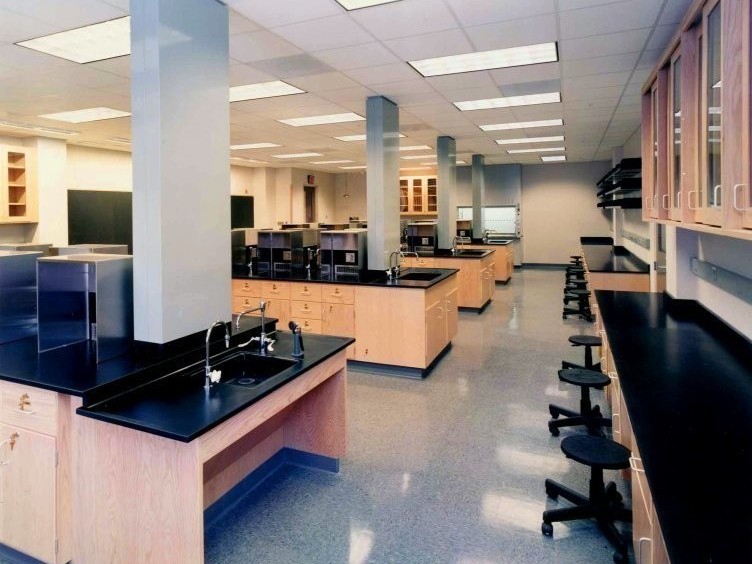 A studied lesson in bold, contextual design, the new Life and Physical Sciences Center's functional, aesthetic, and technological design features introduce a state-of-the-art setting for science and mathematics programs — equal to those now found only on large university campuses. The prevailing red brick and limestone aesthetic is skillfully appropriated here - in a striking composition featuring prominent entrances scaled for each location, glazed beacon-like stair towers that encourage healthful walking, and a prow-like south-facing greenhouse overlooking a DNA garden. 
Unparalleled facilities for math & science, dual funded
This expansive facility, equally funded by both The Ohio State University and James A. Rhodes State College, houses Chemistry, Biology, Physics, Geology, and General Mathematics Departments. The typical lab accommodates 24 students, and there are numerous pre-labs and research labs. Each lab is equipped to provide teaching flexibility, including a fiber optic backbone and data ports at all desk locations - and video projection.
The 85,000 sf building also contains a technology center which houses a production lab where educational videos and live shows are distributed over The OSU network. Classrooms range from 35-student rooms outfitted specifically for instructing mathematics to a variety of tiered lecture halls which are used for student instruction as well as community activities and outreach programs.
Amenities abound: an attractive and generously-sized lobby greets students and faculty at the main (quad) entrance. Beyond is a soaring four-story daylit lightwell, designed to further social and intellectual interaction opportunities.
Champlin received a Cincinnati Design Awards AIA Citation for architectural design of this project.