NKU's new Parking Garage — planned for sizable future expansion - shrewdly conceals its bulk.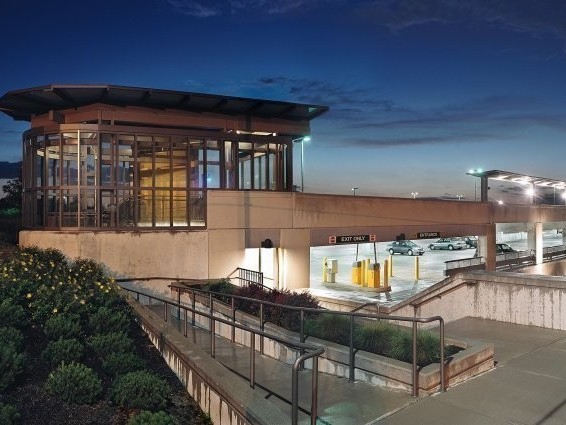 Programmed to alleviate severe parking shortages, Northern Kentucky University's new Kenton Drive Parking Garage also will facilitate anticipated future campus expansion. Located on the west edge of campus on the site of previous sports fields, existing bowel-shaped topography suggested the "stepped" plan configuration. The site sits below street level, masking the bulk of this large facility. Planned in five "modules," the massive garage features vine-planted lightwells between each module, flooding the lower levels with daylight. This three-level, 680-car first phase (two modules) sets the tone architecturally and structurally, with a no-maintenance pre-cast façade and stainless steel detailing.

Façade design asserts continuity with campus' strong aesthetic

The existing campus aesthetic is a bold, cohesive example of concrete Brutalist architecture, popular in the mid-20th century. While such an aesthetic is quite appropriate for a garage, Champlin humanized the expression through the use of prominent glazed stair towers with translucent butterfly canopies and highly-visible glazed block elevator towers cloaked in NKU's signature gold color. Safety and security, both actual and perceived, are of paramount importance, and both pedestrian and vehicular circulation were carefully considered. The stair and elevator towers anchor each end of the garage at Kenton Drive. Vehicular entrances occur at the middle level, intuitively leading to ramps up and down — allowing the garage to fill much more quickly and efficiently — especially during early morning and late afternoon rush hours. A pedestrian bridge spans across the busy drive, and is aligned with an existing collector sidewalk that feeds to and from the campus core.
Phase 2 will bring the ultimate vehicle count to 1,600.