Nelson Commons' refreshing, contemporary vibe proves palatable with Ohio University students.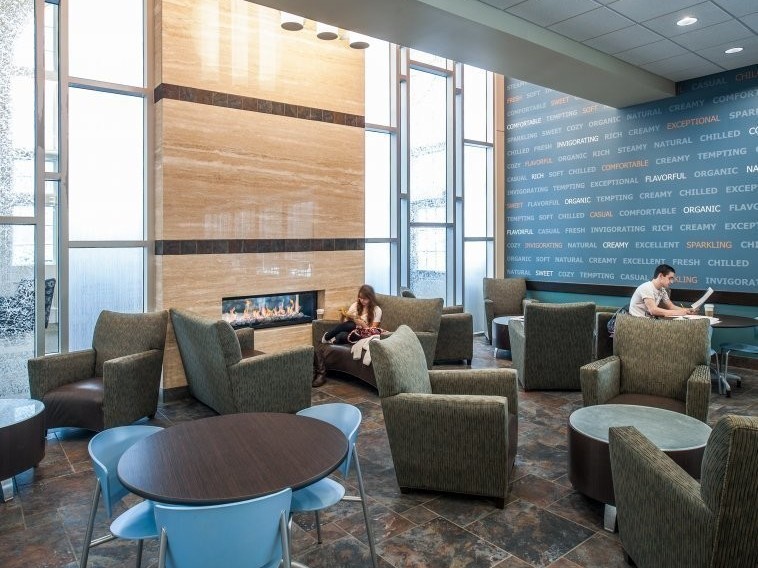 Constructed in 1967, Nelson Commons serves the dining and banqueting needs of students residing on Ohio University's South Green. The building comprises 150,000 sf, serving 500 students housed in multiple residence halls surrounding Nelson Commons, making it a popular choice. The dining commons sits atop a parking level (so that it is elevated above the flood plain), with a small mezzanine for mechanical systems.
Nelson Commons is a large facility with a previously low-key, if inconspicuous, campus presence. Champlin redesigned the Commons with an eye towards re-energizing image and approach — architecturally strengthening the entry pavilion, resulting in an appealing and comfortable first impression for students and the public. Students are enticed by this facility, which features a clerestory daylit atrium concourse smartly organizing access to the retail store, dining center, and café.
Au courant dining experience incorporates new exhibition serving concepts
The interior has been 100% renovated, including dining seating and serving areas, retail, café, kitchen, dishwashing, and storage. Improvements to the student dining experience incorporate exhibition serving areas with five concepts: Salad Bar, All-Day Breakfast, Barbecue, Italian, and Asian Fusion. A cafe with extended hours is also introduced, as well as a highly visible retail store selling a wide variety of Grab-n-Go food and sundry merchandise. The cafe is bathed in filtered natural light, warmed with a see-through fireplace and casual, coffeehouse-like atmosphere. Phase II's banquet space offers distinct flexibility for the facility, designed with direct access from the main kitchen, dishwashing and storage areas, as well as its own dedicated outside entrance and restrooms. Additionally, all MEP, fire protection, and technology systems were replaced.
The project achieved LEED Silver certification.