Student Housing & Related Dining Masterplan intelligently guides Miami's investment in its future.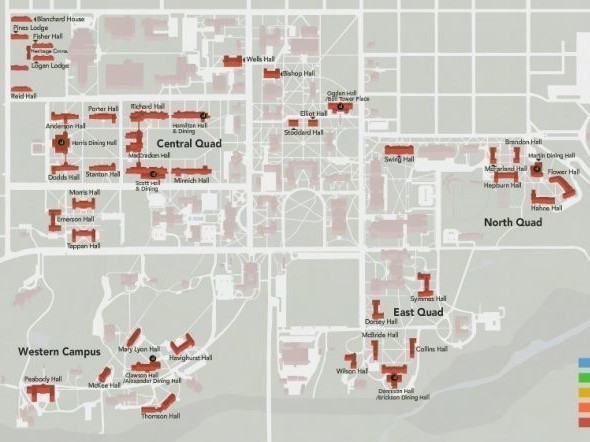 Miami University's main campus in Oxford is primarily residential, with approximately 7,100 beds in 41 halls and seven dining facilities. The majority of residence and dining halls were outdated with regards to functionality, social amenities, and building utilities.
Champlin Architecture, serving as Associate Architect, collaborated with CBT Architects and Brailsford & Dunlavey to complete this Student Housing & Related Dining Masterplan. The team performed a thorough review of current planning documents to corroborate campus housing needs for the future.
The following services were included in the Masterplan:
Student housing demand and preference analysis with bench marking
Comprehensive existing facility condition reports for 14 residence halls
Program of Requirements for new and redeveloped student housing
Site plans and building layouts for proposed new and redeveloped buildings
Project cost estimates with overall financial cost proformas
Comprehensive plan identifying distinct phases of work with adaptable flexibility
Masterplan timeline with cumulative bed count per year for each school year plus occupancy level
Champlin retained for implementation phases, involving both renovation and new construction
The project execution phase for this 20-year master plan commenced design in 2010, with an anticipated total investment of approximately $400M by Miami University. Kick-off began with renovation of some of Miami's most historic residence halls (Elliot, Stoddard, and Bishop), along with expansion of Marcum Conference Center — with Champlin as Associate Architect. Champlin provided construction administration services for recent implementation phases, including Etheridge Hall (a new residence hall), Maplestreet Station (a new residence hall atop a new dining facility), and Western Dining Commons (a new dining facility).