Smart consolidation drives efficiencies and promotes common mission at Mercy Health's new Home Office.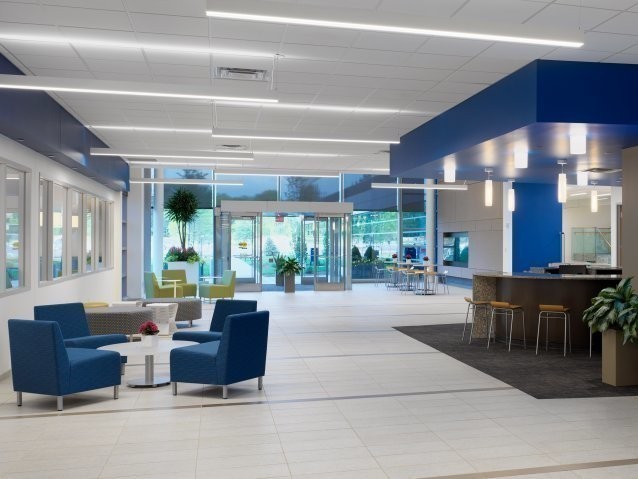 Comprising planning, programming, and design for interior build-out of a new home office/headquarters for Mercy Health, approximately 1,500 employees are now housed together in 368,000 sf of modern work space. Because this project involved extensive consolidation of various corporate offices throughout the community to one central location, Champlin led discussions with project stakeholders facilitated by a corporate culture assessment that resulted in a set of guiding design principles — which informed and measured key planning concepts against a consensus developed by these colleagues.  The principles included: facilitating employee interaction and collaboration; improving wellness; enhancing recruitment and retention; offering greater choice and variety in workspace accommodation; improving access to natural light and views; and incorporating more and varied space devoted to meetings and communication. 
Facilitating cultural change through a communicative design process
The majority of occupants of the new building had previously resided in private offices.  In the new Home Office, less than 10% work in enclosed rooms.  Concerns for acoustical and visual separation were addressed early through well executed communications and pilot workspace arrangements, to allow staff to objectively experience alternative workspaces, and provide useful feedback for improvements before final designs were developed.  This facilitated buy-in, and generated excitement and anticipation for a better outcome. 
Centrally located building amenities, such as a fitness center and yoga classroom, employee food service and dining, a tech-service "Genius Bar", Starbucks kiosk, chapel, and visitor business center offer strategic opportunities to meet and interact with others in substantially less total square footage than was previously dedicated to fixed private office space.  Champlin created ways to leverage possibilities which already existed, integrated into flexible workspace which responds to employees' needs rather than forcing the work to fit the space.