Expansion and improvement of community hospital's Emergency Department & Surgery Center involved complex construction phasing.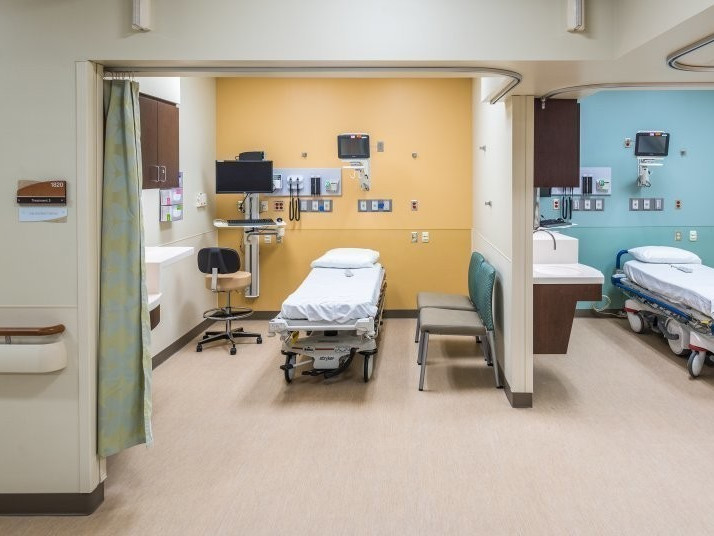 McCullough-Hyde Memorial Hospital took the opportunity presented by expansion of their emergency department and operating suite to better align themselves with the facilities offered at other TriHealth locations. This community hospital in Oxford, Ohio had grown incrementally since initially constructed in 1955. Its location in a college town meant that maintaining the operations of the emergency department and surgery suite was essential to success of the project.
A series of construction phases were purposely developed that began with a building addition, creating space for the emergency department to move into. Space vacated by each previous phase generated the swing space necessary for the next phase to begin. This phasing was critical in enabling the existing ORs to remain operational while creating new ORs in an area of the facility with taller floor-to-floor heights — permitting the installation of equipment booms and multi-arm mounts with the flexibility desired by the surgeons.
A total of three new ORs were created, while an existing fourth OR was improved. The surgical suite was also reconfigured, introducing the desired materials management paths fundamental to implementing efficient distribution from clean and soiled sterile processing on the lower level to the sterile core within the OR suite. Endoscopy has been relocated to a former OR, and scope cleaning and storage is reconfigured to serve that room and a future room left as a shell.
Thoughtful planning introduces desired functionality
The addition housing the emergency department establishes a new entry sequence that separates access to the ED from the main hospital entry, facilitating off-hours security. A larger day-lit waiting area and new registration/reception desk are also incorporated into the addition. The ED consists of 11 treatment rooms and a trauma room that is sized to accommodate two stretchers. Rooms dedicated to orthopedics, gynecology, and isolation are included. These treatment rooms are compactly arranged to minimize travel distances for staff and to enhance visibility of all patients from a central nurse station. Amenities, such as dedicated EMT storage and a shared break room, encourage collaboration between squads and ED staff.