Completely revamped Kennedy Commons serves delectable student dining options at The Ohio State University.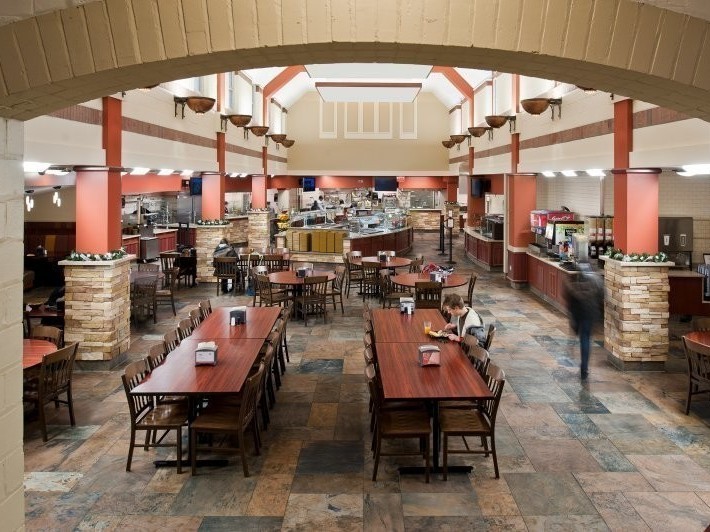 Kennedy Commons, OSU's largest central food service/dining facility, remained largely unchanged since the 1960s. This 38,000 sf renovation completely reconfigured the entire servery and kitchen, including cold prep, hot prep, central stores, coolers, freezers, central receiving, administrative offices, staff lockers, restrooms, and dishwashing. Additionally, the dining rooms were reimagined to better engage food-service staff with their student patrons, in order to deliver an optimal contemporary dining experience. Student and staff input were solicited by means of on-site focus sessions during the programming phase, coupled with a separate design charrette involving the entire project team. Key project success factors shaped the design strategy, ensuring an auspicious result which met schedule, budget, and functional objectives.
Historic exterior restored; interior appealingly melds new with old
The primary aims of the project were functional reorganization necessary to support popular new dining initiatives, aesthetic improvement of the dining venues, and modernization of the kitchen layout. A glazed addition creates an accessible entrance lobby, vastly improving pedestrian connections. The three traditional dining halls — seating 600 — were fundamentally reimagined: one remained a traditional hall — with rejuvenative finishes accentuating its exceptional spatial character; one became a contemporized exhibition-serving concept rathskeller; and, the third, a grab-n-go style deli with its own outdoor entry, along with insertion of a mezzanine study lounge — accommodating late-night service.
All new building systems were deftly inserted, requiring substantial coordination among design disciplines. A sophisticated variable volume hood system was engineered to save energy, by not emitting conditioned air through its hood. The hoods are controlled by a demand sensor, which tells the fan how much air volume to provide, preserving energy when cooking volume is low.

The project achieved LEED Silver certification.