Renovations to Northern Kentucky church integrate family life with future generations.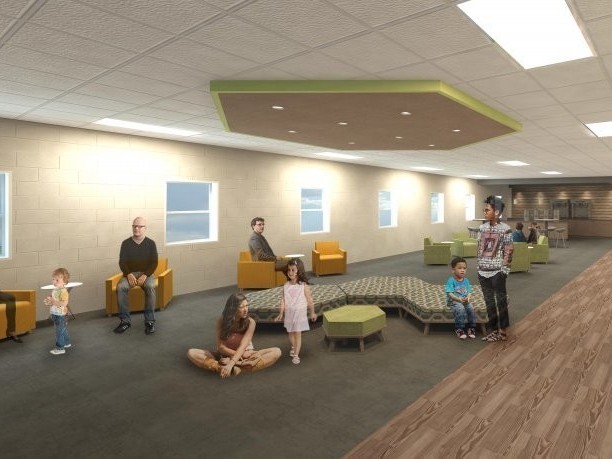 Hickory Grove Baptist Church, located in Independence, Kentucky on Taylor Mill Road, consists of four buildings on 43-acres of land. There is an original sanctuary building of concrete block - now used for storage, a nursery wing attached to the sanctuary and fellowship hall, a family life center connected to the sanctuary through a pedestrian bridge, and a storage barn behind the building. The Church also contains a state-licensed daycare and preschool facility split between the sanctuary and family life center. 
Initially, Hickory Grove engaged Champlin to help consolidate and increase circulation, functionality and security for the children's ministry and daycare/preschool. During our early meetings, we discovered the church has a vision to reach all of Kenton County and beyond, and they approached us with research showing the growing population trends toward younger families and percentages of unchurched people in the county. Given this vision and prime location at the major intersection of Kenton County, Champlin began walking the church through a master planning vision to gauge what their growth goals and capacities would look like in the future. 
Renovations include room for potential growth 
We began with a factfinding session to uncover all their ministries and programs and how they fit within the existing facility. Next, we project how those programs may evolve over time as the church grows and reaches different demographics in the future to understand how solutions to current issues could establish a strong framework of support for expansion. Finally, we helped them establish a design palette that would fit within their vision and set guidelines for future design work and branding. 
Armed with knowledge of current problems, future opportunities and threats as well as a design framework, Champlin created a ten-year masterplan to be executed in three distinct phases that will allow the building program to expand incrementally with projected growth and needs to each phase. Phase 1 includes an interior renovation of the family life center and parts of the nursery wing and fellowship hall. The family life center will consolidate all the daycare/preschool programs as well as the children's and youth ministries into a single licensed facility with new and updated restrooms, a catering kitchen, lobby spaces and secure family check-ins. The fellowship hall will have renovated restrooms that will be used for staff as the staff offices will move from the family life center to the fellowship hall. The nursery wing will be transformed into adult classroom space, and the public restrooms will receive a complete overhaul. Exterior work is limited to the construction of a new accessible ramp from the parking lot up to the main sanctuary entrance.
Future phases are envisioned to include construction of a new 1,100 seat worship center, three floors of addition to the family life center for increased youth and children's ministry services, expansion of the atrium to establish the final new entry off expanded parking areas and construction of a courtyard between the existing sanctuary and new worship center.