Dramatic, expressive architecture boldly signifies aspirational civic function, appropriate for this new-generation Harrison Branch Library.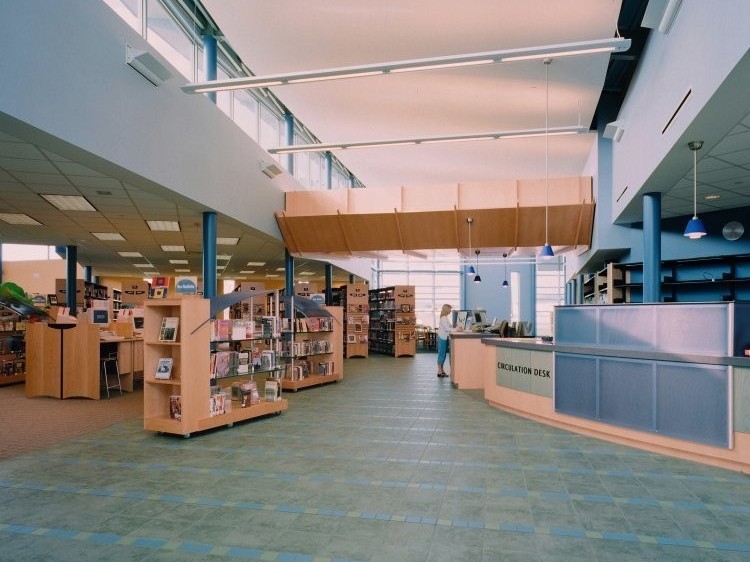 Starting with a blank-slate greenfield site in exurban Harrison, the Public Library of Cincinnati and Hamilton County and Champlin Architecture envisioned a compelling, community focus for this fast-growing, yet indistinctive, bedroom community. Harrison Library addresses its important corner site with a sweeping, fan-shaped plan distinguished by clerestory-glazed volumes arrayed to define the three reading zones: children, adult, and teen. An instant landmark, every detail was thoughtfully considered — from horizontal sunscreens and vertical fins which allow for generous glare-free daylighting and views, to the cost-effective split-face limestone veneer which imparts permanence and durability.
A learning center welcoming the entire community...casual, accessible, uplifting
A central entry axis demarcated by a tall, glazed volume bisects the revolutionary open plan, with circulation and reference desks ingeniously positioned along a panoramic sweeping arc. Strategically segregating the reading turfs, book stack space is integrated with computer stations and media storage; 16,000 sf houses a 65,000 volume collection. The airy reading zones are furnished with comfortable chairs and admit abundant natural light. Custom-designed book carts and curving desks are artfully composed of maple wood with translucent color-resin screens. Deftly incorporated into the site is a drive-up window for personal assistance as well as a convenient drop-off box for returning borrowed items. Champlin received a Cincinnati Design Awards AIA Honor Award for architectural design of this project.