Ingenuity is fostered in a distinctive, tailored environment at GE's new Product Engineering Center.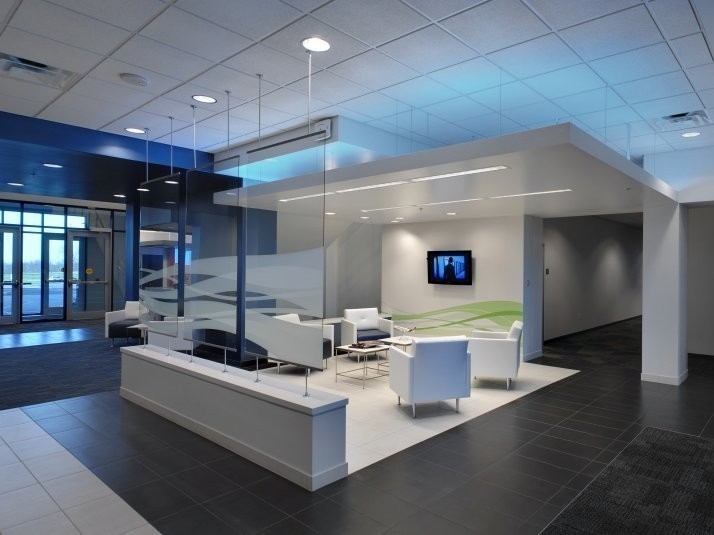 This 400,000 sf interior build-out by Duke Construction at GE Aviation's North Pointe at Union Centre campus, encompasses two separate four-story buildings — accommodating 12 distinct departmental groups. Security of highly confidential and classified product design and operations information was a key project driver, resulting in a sophisticated access control system. 
Champlin created specialized work space, comprised of open and private offices, project rooms, and secure conference rooms, with a flexible emphasis on technology. Dividable training rooms are found on three floors. Team huddle spaces facilitate collaboration. A Visitor Center offers computer workstations to non-badged visitors and business partners. Private offices ring each building's interior core, while open office work stations are arrayed around the perimeter of each floorplate, affording natural light and views to all engineers working in this intensive, focused environment.
"By opening the box, creative thinking is liberated"
The design concept is expressed architecturally by an "unfolding box." The message reinforces the notion that "by opening the box, creative thinking is liberated." The branded environment bolsters this theme throughout, with consistent metaphorical architectural elements defining public/common areas, as well as individual suite entries. Indirect lighting further accentuates these features.
GE's brand colors were utilized in interior finishes to articulate key destination points, such as common break areas, training/conference rooms, and a retail café. Sustainable materials and finishes were specified with recycled content and low VOCs. The design strategy took advantage of daylighting, supplemented by indirect ambient office lighting — resulting in low energy consumption.

Champlin received a Cincinnati Design Awards IIDA Honor Award for interior design of this project