A new desking strategy proves vastly more efficient for Fifth Third's Detroit Regional Office, relocated to an admired mid-century modern downtown skyscraper.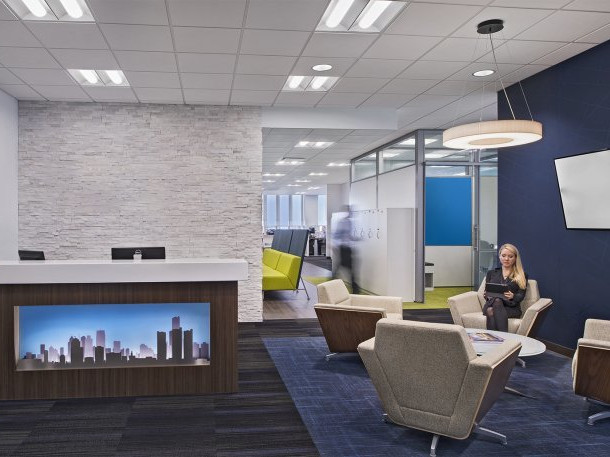 This banking financial service provider relocated its regional headquarters to prominent architect Minoru Yamasaki's One Woodward skyscraper in downtown Detroit as a testament to their dedication to the city's revitalization. Regulations required Champlin Architecture preserve and restore many historic features of this 1962 mid-century modern tower — such as marble flooring, fireplaces, waffle slab ceiling structure, and wood wall paneling. Champlin found the existing architecture inspirational and quite conducive to the juxtaposition of contemporary office culture.
Incorporating many workplace trends, an open-office concept is utilized throughout — leaving traditional desking policies behind. At 48,000 sf, this new office proved to be an extremely cost-effective solution; by reducing the size of large offices and utilizing that space for unassigned desking, Champlin showed our client how they could eliminate 57,000 sf of leased space when compared to their previous sprawling suburban quarters. Almost all workspace is unassigned; employees may choose to work wherever they please. Collaborative spaces are dispersed throughout, including several huddle rooms available for more private work. Wellness is at the forefront of this forward-thinking environment. Working treadmills are located near large windows, providing a great option for those who want to enjoy stunning views of this northern city while taking a stroll. Ergonomic adjustable-height desks are another way employee well-being is promoted. 
Engaging workplace design that capitalizes on its setting
The Detroit skyline, laser cut from stainless steel panels and mounted in front of LED-backlit acrylic, emanates a dramatic welcome at the front desk. Modular partition systems incorporate generous glazing, contributing to feelings of openness and transparency. This innovative corporate setting has been so well-received that the client has asked Champlin to use it as a standard for the redesign of its other offices around the country.