Executive Conference Center manifests refined design aesthetic, serving as a sophisticated venue for meeting and collaboration.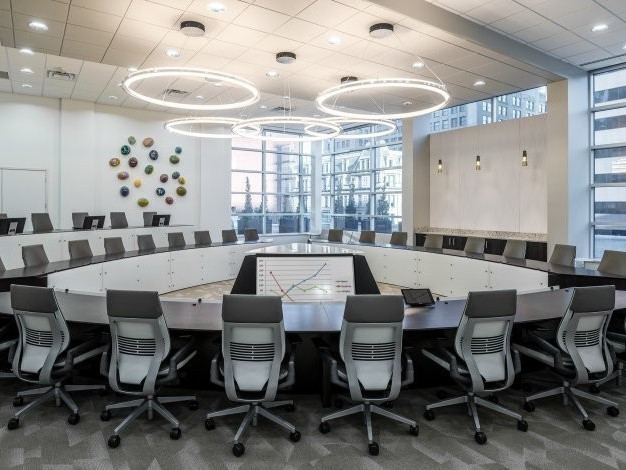 Consistently successful results over a period of 25 years have fostered a level of trust by this client in Champlin. We strive to grow along with our clients — as our mission, ultimately, is to advance their objectives through design. This Executive Conference Center shows the power emanating from a history of working together, with Champlin cultivating an understated, yet sophisticated, aesthetic — which the client has described as "perfectly attuned to our needs and image".
Modern, relaxed design exploits dramatic environs
This Center sits discretely atop a low-rise wing of the company's downtown headquarters. The Fortune 500-company desired meeting space that would support the conferencing needs of executives who have offices nearby, including a Board that meets quarterly. Informal collaborative areas and break out space for board members, as well as management, along with enclaves for private phone calls and smaller committee meeting rooms, are arrayed around a central café. Large counters and appliances provide the space and resources for catering events and refreshments during day-long meetings. An unexpected amenity, the outdoor terrace nestled among adjacent skyscrapers offers a welcome respite and alternative gathering space.
The Board Room incorporates advanced audio technology for voice amplification that is hidden in the custom tables. Life-size images of board members who cannot be present for a meeting are rendered a virtual presence with video streaming from remote locations. Champlin's design talent is evident in the unique non-hierarchical nature of this space, which resulted from an analysis of the client's needs and desires, fused with technological possibilities.