Consolidation of services momentous opportunity to create a sophisticated and empathetic setting for childbirth.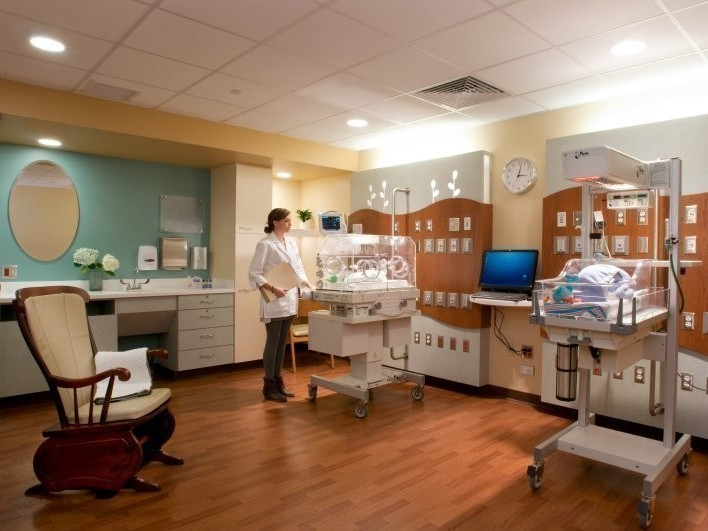 With the goal of maximizing operational efficiency, and offering a central geographic location to better serve the patient population, this consolidation of all labor and delivery services into a single location "Center of Excellence," was motivated by the acquisition of two hospital properties in Northern Kentucky.  This new unit embodies a strategic re-branding effort of the merged organizations (formerly St. Elizabeth Medical Center and St. Luke's East & West) under the unified brand "St. Elizabeth Healthcare".
Consolidation components:
31-bed Postpartum Unit
33-bed LDRP Unit
31-bed Level 3 Neonatal Intensive Care Unit
Triage suite
Prep & Recovery suite
C-Section Operating Room
Renovation of 19,000 sf to accommodate spatial realignment
Renovation of 2,100 sf for Women's Outpatient Services
Complex projects require expert planning and execution
Bringing clarity to this complex planning process, Champlin Architecture assigned one principal-in-charge, who coordinated all aspects of the project and led every meeting, along with separate project architects individually responsible for and with particular experience in the various consolidation components — which facilitated rapid formulation and execution of the holistic project on a tight schedule.
Stress reduction is an achieved goal, where machines, cords, and tubes can overwhelm. Curving and circular motifs, along with sunburst and propagating leaf patterns, soothing colors, and artwork de-institutionalize and soften the environment.