Well-planned, strategic expansion forges enlightened new image for Dearborn County Hospital.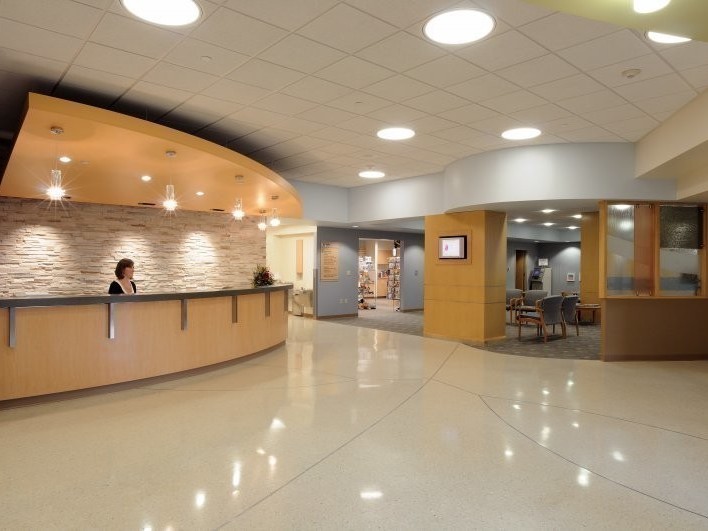 This exurban community hospital was expanded by adding 100,000 sf plus a 250-car parking garage and renovating 25,000 sf. A new four-story inpatient bed tower — expandable by two more floors — includes two 24-bed med-surg units, a 12-bed step-down unit, a six-bed pediatric unit, lobby, gift shop, visitor drop-off canopy and entry, and shell space for future outpatient and inpatient surgery expansions (since completed). Champlin's services included programming, planning, and design for this $39m multiphase expansion.
Prior relocation of the arterial access road generated enough space necessary across the front of the hospital to afford the opportunity to create a completely new image. A unifying aesthetic wraps the new patient tower, which parallels the realigned thoroughfare. The new hospital entrance is set back from the road, facing the main intersection, such that the lobby strategically connects new construction with existing internal circulation. And the new parking garage is prudently sited adjacent to the entry, yet discretely integrated into the composition. Such moves now allow DCH to compete well with other, newer suburban hospitals nearby.
Top-notch setting for healthcare services unparalleled in Southeast Indiana
The ground floor of the new tower provides needed expansion of diagnostic and treatment services, and consists of general radiology, two new CT scanners, one new and one future MRI, space for a future PET scanner, and shell space for future diagnostic services. Further work included in-place renovation and expansion of the instrument processing department, relocation of administration and medical records, and expansion of the existing cafeteria. With all this work being constructed within, atop, or adjacent to existing hospital space, it was critical that the design team developed a solution that would not only meet the current and future needs of the hospital, but could be implemented in such a manner that would ensure minimal disruption to the hospital's ongoing operations.
What the client says: 
"Champlin's ability to understand our needs and culture, and to communicate these to other members of the design team, was instrumental in making this project a success. We found them to be both professional and extremely easy to work with, which helped to make this huge task more manageable for us. They interacted well with all our staff, from top level administration down to front line staff workers. Their overall attention to detail and constructability, along with their problem solving skills, helped keep our project on schedule and within budget, while always maintaining a focus on value-driven design." 
Peter V. Resnick - Dearborn county Hospital - Executive Director