Intelligently planned expansion of Dayton Children's South Campus creates an advanced healthcare setting for children and their families.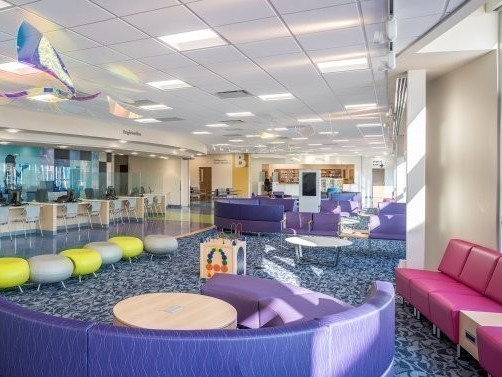 Dayton Children's South Campus started small in size, but big on image, with a highly-visible freeway presence in the burgeoning south suburbs. With success has come phenomenal growth: Champlin Architecture has added 120,000 sf to the original iconic 20,000 sf building in Springboro (which also underwent renovation). Expansion has taken the form of two additions, amassed on either side of the existing main entrance and landmark "lantern". The southern addition is a two-level, 70,000 sf medical office building, designated a "specialty care center". The northern addition is a two-level 50,000 sf pediatric emergency department and ambulatory surgery center.
Developed using the fast-track design/build method, Champlin worked closely with the owner, contractor, and the contractor's sub-consultants to develop several phased bid and construction packages. The aggressive schedule required close coordination and forethought, since the building's exterior skin was erected while interior layout and design were still in progress. Site and building design had to take into consideration that the existing building would remain open and operating during construction. This was further complicated by the fact that the new buildings connect to the existing building along its primary façade, and the original main entrance and drop-off canopy were enlarged and replaced.
Unique, the medical office building's clinic spaces are designed to flex up and down, based on daily demand from the various specialties that share the exam and treatment environment throughout the week. During this project, Dayton Children's embarked on a corporate rebranding effort — which Champlin agilely responded to with interior design that incorporates the new graphic identity in a sophisticated fashion through color, graphics, and furnishings. 
Cultivating a brand image that resonates and differentiates
What is striking about this expansion is the refinement of a brand image for the campus. The original structure's colorful gabled assemblage imparts a farmstead, if residential-like, quality belying its scant size — especially relatable as a place for children. The scale of the square footage added could easily have overwhelmed and institutionalized its identity. However, the disposition of the expansion into two separate wings strengthens the existing building as the brand's "set piece" at the center, and the long gabled forms allude to the large barns once prevalent in rural Ohio. The positioning of the additions embracing the large parking area with a sweeping perimeter entry / exit drive and new main entry canopy, maximizes efficiency, safety, and wayfinding.