The Senior Administrative Suite at Dayton Children's Hospital was identified as an essential need and was initiated by hospital leadership. Champlin Architecture designed the 10,000 square feet suite to provide senior leadership with a high-end, first-class office space.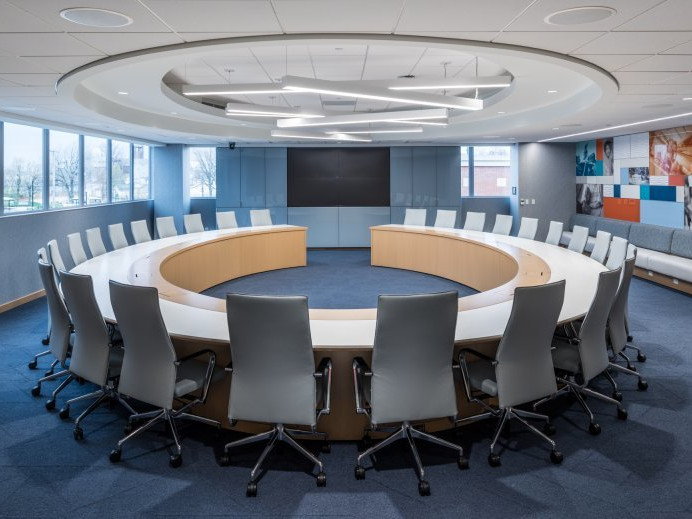 Existing nursing units were renovated and designed to reflect the bright, clean, contemporary aesthetic within the patient tower and four-story atrium of Dayton Children's Hospital and that aesthetic was translated into a mature corporate setting. Reflecting the hues of the rest of the hospital, the new administrative suite consists of blue/gray tones with accent colors in the artwork and furniture, creating a unique narrative for a space that retains the playful, approachable sense of children's hospital. A clean, efficient space and design focus is clearly visible through featured elements that provide a level of sophistication that distinguishes itself from the rest of the hospital.
Each unique space in the administrative suite boasts a distinct architectural feature. The reception area has a quartz transaction top on a wood veneer desk with a full-height back wall of painted glass panels. The state-of-the-art boardroom includes custom-milled casework and furniture and a large presentation wall with operable back-painted glass panels, wood veneer wall panels, and floating credenza. A built-in wall bench was installed for additional seating.
The clean lines, brightness, and versatility of glass as a dominant finish that is tempered with the warmth and depth of the light ash wood create a welcoming and refined space for senior administrative employees.