Clinton Memorial Hospital's Regional Cancer Center offers fully integrated treatment in an exceptionally-designed stand-alone facility.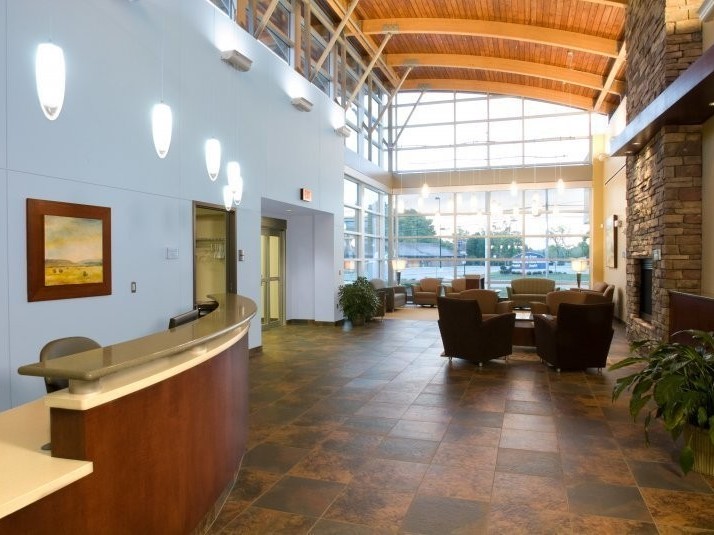 A welcoming, regional modernism-style building constructed of wood, glass, and brick, leading to a refined interior of stone, wood, and glass is not where cancer patients might expect to receive treatment. A healing environment created of natural materials, generous windows, a fireplace, comfortable furnishings, and a soft color palette offers a sense of intimacy for this patient-friendly facility.
Evidence-based design suggested highlighting nature and art as positive distractions in the healing process.  Glazed walls, clerestories, and an open fluid layout suffuse space with natural light, generating energy and vitality.  18,000 sf includes a conference and meeting room designed for flexible uses, such as education, holistic therapy / exercise, and for community functions. 
A comforting and compassionate environment specifically tailored to the cancer patient
Flexible infusion bay areas are designed to allow for patient privacy, with a unique sensation of openness allowing the patient freedom to adjust sliding screens, and appointed with amenities such as private flat-screens. These areas all have views into the healing garden for patients undergoing chemotherapy, with individual shading control. Indirect lighting accentuates openness while fostering privacy in the radiation oncology department, softening what is traditionally a dark and enclosed part of the cancer center. This area is designed with a direct separate entrance, offering convenient access from and to the parking area for the patients and care-givers, since they tend to receive treatments daily for several days/weeks in a row, engendering maximum patient privacy. The linear accelerator ceiling has a unique night sky design with twinkling fiber optic lights simulating a star constellation, creating a calming and relaxing environment during treatment.